If trying to decide where to go for breakfast, lunch or dinner while shopping, working,  sightseeing near Chicago's Magnificent Mile or catching a show at nearby Lookingglass Theatre, consider stopping in at Marisol at the MCA.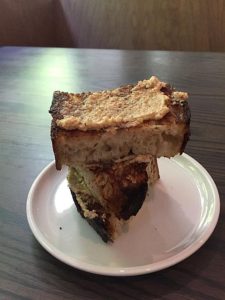 It's street level at the Museum of Contemporary Art Chicago which always has interesting exhibits, but the restaurant has become a destination by itself since opening Fall of 2017.
Helmed by Chef Jason Hammel and James Beard Rising Star nominee Sarah Rinkavage, the dishes are a work of art to look at and to savor.
Tables fill quickly so call if you want a reservation. However, walkins are welcome. When I recently stopped in for lunch I found that patrons were giving their names to be called.
Delicious-sounding sandwiches such as a Grilled Ham and Comte with garlic aioli, date honey and petite greens and such entrees as Salmon A La Plancha with fregola sarda, escarole, pistachio and meyer lemon vinaigrette seemed to say choose me.
But I decided to try a dish from the Light Plates section and one from Vegetables. I opted for Burrata Toast with Burrata cheese, fennel, bay leaf, toasted almond and strawberries and also the Asparagus with feta, nasturtium and grapes.
Wow! The bread came with a warm topping of garlic, almond and butter paste. As yummy as it was alone, it was perfect for dipping into the Burrata cheese/ fennel-strawberry mixture and a great side for the asparagus, greens and grapes salad.
Next time, and there will definitely be a next time, I'll probably try the Werp Farm Greens with marinated beets, grilled chicken, yogurt dressing and sesame breadcrumbs if still on the menu or maybe the Confit tuna Tartine with ricotta mandarin and caper aioi.
The room with a colorful mural by Chris Ofili was not open for lunch while I was there but I'm also thinking of coming back for dinner when it usually is open.
Marisol at the MCA is at 205 E Pearson St Chicago, IL, (312) 799-3599.
Photos and text by Jodie Jacobs
Related: James Beard nominee Sarah Rinkavage talks about the award and Marisol