It's busy. It's noisy. It's the "in" place in Lake Forest, IL.
Given the evening's bustle and difficulty getting a table at our desired prime time, so far Sophia Steak looks like it may have a longer shelf life than its predecessor at its Laurel and Western Avenues location.
Formerly the Grille on Laurel, a once popular family go-to-place known for good seafood and reasonably priced dishes plus Sunday and holiday buffets, the building became MLG for a few years, an upscale burger, nouveau American, wine and cocktail emporium of TV personality Marcus Lemonis.
Now it houses Sophia Steak, an extension of a popular, high-end Wilmette, IL restaurant operated by Chef Keefer (think Keefer's in River North) and Ballyhoo Hospitality's Ryan and Anna O'Donnell. Their Wilmette restaurant defied the Pandemic's odds by opening to rave reviews in 2020.
Four of us decided to try the Lake Forest branch that recently opened this fall of 2022.
We started with an appetizer of Crispy Lobster and Shishitos then seriously thought about steak options.
Two in our party ordered Prime Flat Irons while one went for a Black Angus Filet and one person who thought she ordered the Flat Iron Sophia style with mushrooms, was served the filet. Maybe the waiter wasn't listening well or maybe it started to get too noisy.
In addition, the waiter didn't point out that sauces were available to add to the steaks. They were at the bottom of the menu but not easily noticed.
However, the steaks were wonderfully prepared, juicy and tender. But our waiter never stopped to ask if they were prepared as ordered, two at medium rare and two at medium.
Three of us ordered salads with me asking for a dish to use for tasting the others. Two were Caesars and one was an iceberg wedge They were OK but nothing special.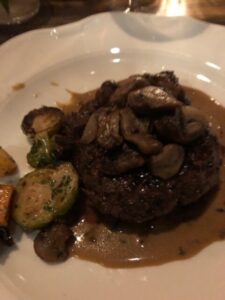 I also tasted the Lobster Bisque ordered by one of our friends. It was excellent and didn't need the red wine sample I had saved to add to the soup.
The restaurant then became so busy we had to beg someone to remove our used plates.
About that red wine sample, the best part of the service was that a waiter allowed me to taste a couple of reds and left them at my plate. They weren't as full bodied as I had hoped so I didn't order a wine. I hadn't planned on sipping them but must have because they eventually disappeared.
 The list of wines by the bottle was excellent but we weren't with wine drinkers so I checked the by-the-glass list which was sparce. It had a few good ones that were pricy and a few really second-rate ones that were slightly less expensive.
About the beverages: one of our friends ordered a nonalcoholic drink and had trouble getting another one when that was finished.
Would I return? Well, there are enough seemingly excellent items on the menu for diners to come back at lunchtime for the restaurant's Truffle Parm Fries and a Forza Burger or for an attempt to snag a prime-time dinner reservation.
We all ordered coffee. I asked for a refill but was given a second cup. I didn't look at the bill to see if that was added.
It also may be too soon after opening to train the entire staff to what should be Ballyhoo's high standards. So yes, I will give Sophia another try but will request a booth instead of a table.
Sophia Steak is at 181 E.  Laurel Ave., Lake Forest, IL. For reservations or more information call (847) 920-7002 and visit Sophia Steak.