Folks who appreciate a vast wine list (think 300) or excellent small plates to share or dinner with a spectacular view will find the perfect combo at Eno Vino Wine Bar and Bistro, downtown Madison, WI. 
Sprawled across the 10th floor of AC Marriott Hotel, Eno Vino Downtown visitors will see a wall of wine bottles on one side and windows wrapping around most of the rest of the bar and bistro.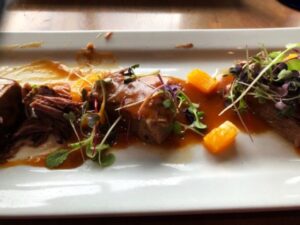 The place really gets busy by seven p.m. But because we had a downtown event at the Overture Arts Center a few blocks away, we made an early reservation so were able to get a table up close and personal to the Madison State Capitol and its huge dome.
There are several good eating places in Madison but Eno Vino was perfect for us that night. Although wine was not our drink of choice before a concert where we would be toasting one of the musicians later, the small plates were a good choice. They were infused with flavor.
I order short ribs whenever on the menu because I don't make then at home. Braised in an orange ginger jus and accompanied by grilled spring onions and micro greens, the dish was amazing. My husband had the lamb meatballs in a romesco,, artigiano vino rosso sauce. Accompanied by toasted ciabatta it worked for soaking up the sauce in both our dishes. 
If we had wanted to eat heartier, we would have added the Roasted Heirloom Carrots in a chipotle honey glaze with spiced carrot purée, cilantro, toasted seeds, almonds and marinated cipollini onions. If we wanted something just as a snack before the concert we would have ordered the bruschetta that came as Brie and Apple with fig jam or the Prosciutto with apricot jam, asparagus and fontina.
Next time we will add wine. 
Eno Vino Wine Bar and Bistro Downtown is 1 N. Webster at top of AC Marriott Hotel, Madison, WI (608) 455.0663. The restaurant and bar have two other locations.