Don't be put off by what appears to be a photo of a shack when making a reservation for Pennyroyal Café & Provisions in Saugatuck, MI. The food, whether breakfast/brunch, lunch or dinner, is superb. 
Pennyroyal is a tiny restaurant and take-out spot on the Blue Coast Highway whose reputation draws diners from all over Michigan and the Chicago area who are vacationing in Saugatuck and are in the know when it comes to dining.
Even though we came after what we were told was the busy brunch hour, we had to wait for a table outside for 40 minutes.
We were going to go there for dinner the night before. But because we arrived in town on a Sunday and couldn't go to the other restaurant on our list on Monday we went to Pennyroyal for lunch on Monday because it closes Mondays about 3 p.m. Its all-day menu was different from the dinner one.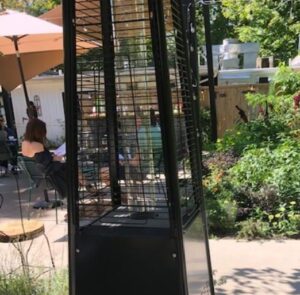 Sitting inside is not about atmosphere but about getting a table. We could have been seated, shortly, inside, where tables are lined up along a wall or at a counter. However, the weather was beautiful so we opted for the outside patio which is lovely but the wait is long. Even though we came what we thought was after the busy brunch crowd, yes, we had to wait for a table outside for about 40 minutes.
Part of the problem is that Condé Nast Traveler has more than once noted that Pennyroyal was a restaurant destination. Also, Executive Chef Melissa Corey had worked for James Beard award-winning chefs and she won when appearing on Food Network's "Chopped."  
Pennyroyal is so innovative and the food so delicious that people are willing to be crowded inside or put up with the long wait outdoors.
My husband often chooses BLT when on a lunch menu but this was not like any BLT's we've ever had.
It was built with delicious Gruyere cheese, Nueske's bacon from Wisconsin, heirloom tomatoes and San Francisco-style sourdough bread from a Grand Rapids, MI. bakery. Reading about Nueske's, a long-time family business, is a clue to how important the chef considers individual ingredients.  Yum. It was worth the wait. 
There are no reservations for lunch but reservations can be made for dinner. So, if in the area, try to get a dinner reservation or be prepared to wait for breakfast/brunch/lunch.
Pennyroyal Café & Provisions is at 3319 Blue Star Hwy, Saugatuck, MI, (269) 455-5133.