When your milk for coffee comes in a mini milk jar and the salt and pepper shakers are also milk jugs you know the restaurant cares about its rich buttermilk food and theme.
 Started as a mere concept in 2014, Buttermilk Cafe now has three locations: Geneva, Naperville and Vernon Hills. We went to the Vernon Hills cafe to see why our friends recommended it. Well-located in the Melody Farms outdoor shopping center for the Libertyville, Lincolnshire, Lake Forest crowd. the restaurant, is  at Milwaukee Ave. and Rte 60.
 Buttermilk Café in Vernon Hills is so popular for breakfast it has people waiting before it opens and is still packed for lunch at 2 p.m. shortly before closing  It also has a coffee bar. But location and coffee bar are not the main draws.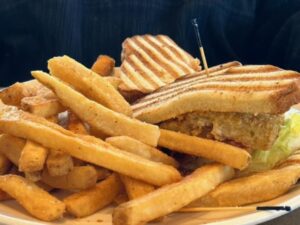 If you go to Buttermilk Restaurants on line to pull up the menu you find five different egg options including an "Iron Man Scrambler," five Eggs Benedict options listed as "Bennys " including one with Fried Green Tomatoes,"  five different Crepes options including "Little Goats" with honey smoked bacon, wild mushrooms, spinach and herbed goat cheese. Making it even harder to decide are different Omelets, French Toast, Pancakes, Skillet dishes and Grains options.
Then there are such Specialty Items' as Avocado Toast and the "Whole Farm."
That's not to say this is just a well-thought-out breakfast place. The lunch menu includes yummy burgers, chicken and other sandwiches.
So, the problem is what to order.
We went for lunch but I ordered the egg/croissant sandwich on the Specialty menu which can come with ham or bacon or sausage and cheddar cheese. I chose bacon this time which was really tasty but will try the sausage next or a crepe or omelet.
I also opted for fruit on the side instead of potatoes. My husband loves BLTs so chose the Fried Green Tomatoes lunch sandwich which he declared excellent.
Besides the problem of choosing what to eat, there is something else. The place is very noisy. The design is labeled "urban barn" which translates as smooth surfaces without anything to absorb noise.
But the food is very good and tables turn over quickly so seating, even when packed, is not a problem. Deciding what to try, is.
Buttermilk Cafe is at 925 North Milwaukee Ave. Suite 500, Vernon Hills, IL (224) 513-5067. Hours: 7 a.m. – 2:30.p.m Sunday – Saturday. For the menu and more information visit Buttermilk Cafe.