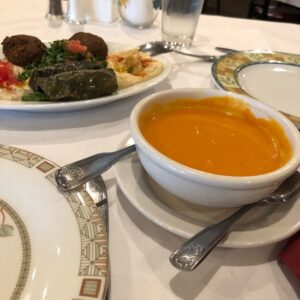 Unless you ate at 1910 First Street, a Mediterranean/Lebanese restaurant down a few steps in downtown Highland Park, years ago, before it became the now gone Phoenicia, you might not understand long-time suburban diners excitement to see owner Joseph back behind the counter.
Chicagoans might even recall he had the now closed Uncle Tannous at 2626 N. Halsted. But during a recent visit when a friend and I pigged out on his "Cold" Vegetarian Combination plates and carrot soup, Joseph, as he is popularly known, explained he had opened the Highland Park restaurant "because that is where my customers are from." He added that the restaurant name came from Danny Thomas.
After a number of years of others running the restaurant as Phoenicia, Joseph has returned to take over his Highland Park location but keeping the same menu.
Not having eaten at Phoenicia in many years, all that I and my friend concluded based on our cold menu samples, is that Uncle Tannous is definitely worth multiple visits to try the menu's "Hot" (temperature, not a spice, designation) specialties.  
I liked the fresh, warm pita which I happily stuffed with the just-made falafel, tahini sauce and even some of the Tabouleh salad. This was eaten in between tastes of his yummy hummus, bites of beets and slurps of carrot soup. 
I also liked the charming atmosphere. It was a step up from casual.
We didn't have room for dessert but will be back. 
Uncle Tannous is at 1910 First St. Current hours are daily 11 a.m. -2 p.m. and 5-10 p.m., closed Monday and opened Sunday from 3 -9 p.m. Call 847.266.9990 to confirm hours. The website is currently under redevelopment but UBer Eats lists menu items and prices.