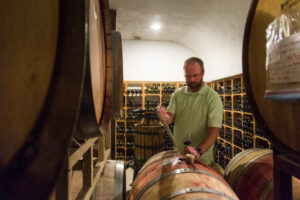 The oldest is Fenn Valley Vineyards developed, owned and operated by the Welsch family since 1973 in Vennville. Its site was specifically chosen in an area that has been good for orchards. About five miles from Lake Michigan, Fenn Valley is a 240-acre farm on top of a large sand ridge between the Black River and the Kalamazoo River Valleys. Its location benefits from Lake Michigan's moderating effect in summer and winter and a well-drained soil.
 Read about each wine at Shop. They were all drinkable and suitable for guests depending on what was served but I particularly liked the Classic Chardonnay fermented in French oak and the Meritage, a blend of Cabernet Franc, Cabernet Sauvignon and Merlot. Sign up for a tour to learn more about Fenn Valley wines, process and soil.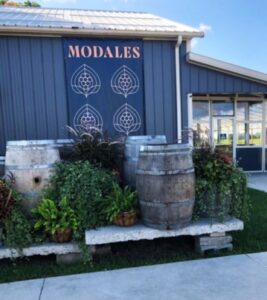 Modales, a new winery begun in 2016 in Fennville near Fenn Valley, has two farms: 75 acres at the winery about 3.5 miles from Lake Michigan that was a stone fruit farm, and 37 acres closer to the lake. The soil is different at each farm so the grapes will have different characteristics.
As a new winery, grapes are bought from other areas, mainly Michigan's prominent Leelanau region which have produced some very fine wines. They are then processed according to Modales tastes and standards. So far, they are concentrating on whites and produce an excellent Dry Riesling (2020)
As to the reds, I liked the 2018 Lamastus Red which was a blend and full-bodied. I also tasted a wine from grapes just harvested in 2022 on the property that was young but showed considerable promise. Good wine is worth waiting for so I expect Modales to become better known as it develops its specialties and plants more vines. Though young, the winery is worth a visit and then a return in a few years to taste again.
The Fennville/Saugatuck/Douglas region has more places that have wines and where they can be tasted. This writer stopped at those places for other features so can only say go, try them, and send a comment.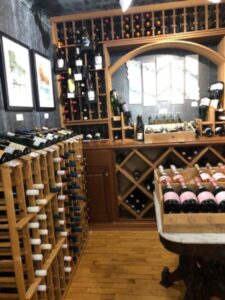 One is the J Petter Galleries in Saugatuck. It is a fine art gallery that has added a good wine-tasting room and is building a fine wine collection.
Operating the gallery since 2013, Julianne Petter is connecting artists to the wines through a label design contest for a nouveau style wine developed for the gallery. Juli, as she's known, considers the connection as a natural reference for them saying it is about appreciating fine wine as "the art of wine." 
Crane's, primarily known for its pies, is in Fennville. But while there we learned it also was a small-batch winery which we will try next time in the region.