The Berghoff, Chicago's famed Chicago German restaurant on Adams Street, originally closed in 2006 after 107 years. So, the family put out a cookbook of favorite dishes. It was gifted to me by Carlyn Berghoff. To everyone's delight, the restaurant reopened and is still in business today and is still celebrating Oktoberfest. Its terrific cookbook is still out there with favorite dishes. Here are two of them- German Potato Salad and Wiener Schnitzel. Enjoy with a stein of German Bier.
German Potato Salad (Serves 8)
Dressing Ingredients
1 ¼ c cider vinegar
½ c minced sweet onion
1/3 c vegetable oil
1 tsp salt and1 tsp ground white pepper
Salad Ingredients
1 c cooked and chopped applewood smoked bacon (about 3 oz)
8 large white potatoes, peeled, boiled and sliced 1/8 inch thick (about 4 lbs)
1 c chopped scallions
Directions
Prepare ahead a day or 4-6 hours so flavors blend. For the dressing, combine all ingredients in a small bowl and whisk to mix well. Cover and let stand for 2 hours before using as directed. Makes 1 2/3 c dressing. For the salad gently, toss the hot sliced potatoes with the bacon and chopped scallions. Stir in the dressing and toss gently to coat evenly. Refrigerate covered for 4 to 6 hours or overnight. The dressed salad can be reheated in the microwave if you wish to serve it warm.
Wiener Schnitzel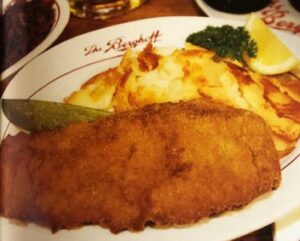 Ingredients
1 c all-purpose flour seasoned with salt and white pepper
2 large eggs lightly beaten and 2 Tbs milk
1 c cracker meal or fine breadcrumbs
4 (5 oz) veal cutlets pounded thin and chilled
Vegetable oil as needed for frying and Garnishes: lemon wedges and kosher dill pickle wedges
 Directions
Place seasoned flour in a small bowl
Whisk whisk eggs and milk in a shallow container
Put cracker meal in a medium sized bowl
Entirely coat each cutlet with the flour, then the egg mixture and then the cracker meal. Pat cutlets with the cracker meal so all covered.
Place a layer of cutlets on a baking sheet, cover and refrigerate at least 30 minutes
Pour oil to ¼ inch depth in large skillet and heat over medium heat. Gently add a few cutlets at a time and cook until golden brown on both sides (about 2-3 minutes a side.) Transfer to baking sheet with absorbent paper and keep warm until ready to serve.