Second in the cookbook and recipe series
There are lots of new and recently published good cookbooks on bookstore shelves, restaurant counters and our kitchen shelves and I will mention some later in this series. However, when I asked on Facebook for people's favorites, I was surprised at how most replies were for old standbys that have been around for decades. I will also mention those and some of their recipes later in the series.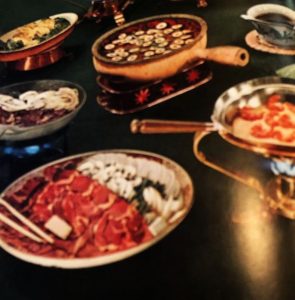 Here is one of my faves including a recipe I've been using for years because my husband loves it and it expands well for company. I highly recommend the book it comes from but it is likely to only be available as a used copy.
It's the Life Picture Cook Book published by Time Inc., NY, 1958. A hard cover about double the height of the Life magazine, it is filled with gorgeous photos. The recipes are not difficult but the book is not geared to new cooks. It is geared to people who enjoy cooking and would like to try something they haven't made ranging from world cuisines to attractive dishes for guests.
This recipe is for Sukiyaki, a Japanese entrée I serve with a side of rice. The (…) for alternates are my choices. This recipe serves 6.
                                                                INGREDIENTS
2 lbs round steak, sliced thin (sirloin also works well)
2 oz beef suet, cut up (or use the cooking oil you like)
2 onions, sliced thin
1 c chopped celery (optional)
2 c canned sliced mushrooms, drained (I use fresh mushrooms I slice)
1 lb spinach, cut in about 1 inch strips
6 scallions, cut up
2 cups canned bean sprouts, drained
1/2 c beef bouilion
1/4 c soy sauce
1 tsp sugar
freshly ground black pepper (optional)
                                                                  DIRECTIONS
Heat large iron skillet.
Rub inside with suet and fry it for until pan is well greased, then discard.
Saute onions for 5 minutes
Add celery, mushrooms, spinach, scallions and bean sprouts.
cook over high heat for 5 minutes, stirring frequently.
Push vegbetables to sone side and add beef.
Fry for 3 minutes.
Stir beef and vegetables together.
Add bouillion, soy sauce, sugar and pepper.
Cook for 5 minutes, stirring frequentlyh.
serve with rice.
RELATED: Banana Nut Bread from Noteworthy Cookbook