"Sláinte [SLAHN-chə]" Hear the Irish toast meaning "Good Health" in several pubs across Chicago March 12 through March 17 in 2022. Now that mask and vax restrictions have eased, restaurants and bars are getting back into the high spirits of St. Patrick's Day celebrations. Just check to see if tickets or reservations are needcd. The places listed are very popular throughout the year but doubly so where St. Patrick and the Irish are toasted.
Check out a pop-up Irish pub at Old St. Patrick's Church in Chicago's West Loop. The church annually puts up a heated tent in its parking lot on Des Plaines Street between Monroe and Adams. The popular fest includes a beer garden and such kids' items as a magician and balloon artist.
Chicago's downtown St. Patrick's Day Parade starts around noon March 12, over on Columbus Drive at Balboa before heading north to Monroe Drive so the church fest, about a mile west, is a convenient spot to hoist a Guiness. The fest is on March 12 from noon to 6 p.m.
A great and convenient place to eat, drink and be merry after the river dying and or the parade, Saturday, is The Gage. A very Irish restaurant and bar on Michigan Avenue, it sits near Monroe where the parade ends across from Millennium Park, Good food, excellent selection of beers and spirits and its ambiance draw business folk so be sure to make a reservation.  The restaurant and bar will open early March 12.  It will also have entertainment on St. Patrick's Day March 17.  The Gage is at 24 S. Michigan Ave. Call 312-372-4243.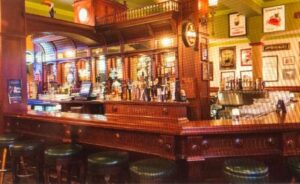 Mrs. Murphy's & Sons Irish Bistro.
When looking for ambiance and authenticity go to Mrs. Murphy & Sons Irish Bistro  in North Center. For St. Patrick revelry make a reservation. The Bistro will be packed. While there pick up Irish cheese, beer and other items in its grocery so you can continue celebrating all month. Located in Chicago's North Center neighborhood, Mrs. Murphy's is at 3905 N. Lincoln Ave. (773-248-3905).  Find more info at St. Patrick's Season – Irish Bistro.
The fest starts March 11 at Chief O'Neill's 3471 N. Elston \Ave. in the Avondale neighborhood. Reservations are need for Mras. O'Neill's parlor where entertainment begins at 9 a.m. There is also a $10 cover charge during certain hours. So call, make a reservation and check the schedule. Seating is in the pub, heated tent and dining room The pub is named for Francis O'Neill who is said to have preserved Irish music in America.
For Sunday, March 13, look for places to celebrate near the South Side Irish Parade in the Beverly or Bridgeport neighborhoods. The Cork & Kerry is a gathering place in both neighborhoods, Yes make reservations. the Bridgeport site is at 32 58 S. Princeton Ave. (312-842-0760 near Guaranteed Rate Field and the other site is at 10614 S. Western Ave. (773-445-2675.