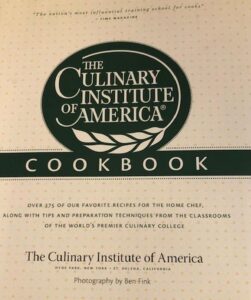 When going through recipes in a couple of old, turn of a previous century's  Black Hills cookbooks, I saw that oysters were commonly on the menu, not as fresh seafood for a cold buffet but prepared as entrees and appetizers.  Of course, they're a staple down on the Gulf Coast so they are often on southern menus. But they are perfect, North and South, to serve as a dish for company when celebrating Mardi Gras.
Here is a recipe found in the Culinary Institute of America Cookbook, a book that is a mainstay in my kitchen. I was gifted it when cooking in a workshop at the CIA's San Antonio location. The book is a terrific resource, not just for recipes but also for kitchen and cooking tips.
As to the Oyster Po'Boy, an intro to the recipe says that the New Orleans specialty was supposedly invented By Clovis and Benny Martin at Martin Brother's Grocery in 1920 to give to streetcar workers who were on strike. The CIA version is rolled, sautéed and served on French rolls.
Oyster PO' Boy with Rémoulade
Serves 8
Rémoulade Ingredients
½ c mayonnaise
2 scallions minced
¼ c minced celery2 tbs minced parsley
2 Tbs dill pickle relish
2 tbs red wine vinegar
4 tsp Dijon mustard
4 tsp drained minced capers
2 tsp Worcestershire sauce
Optional: 4 dashes of hot pepper sauce.
Oyster preparation ingredients
1 ½ c breadcrumbs
¼ c all-purpose flour
1 tsp freshly ground black pepper
½ tsp cayenne pepper
4 dozen shucked oysters
4 large eggs beaten
½ c canola oil (or as needed)
8 crusty French rolls halved
2 beefsteak tomatoes thinly sliced
1 c shredded romaine lettuce
2 lemons cut into wedges
Directions
To make the rémoulade
Combine the rémoulade ingredients in a bowl and set aside.
Then, combine breadcrumbs, flour, black pepper, cayenne
Toss with fingertips.
Drain oysters and dry.
Dip oysters, one at a time into beaten egg and roll in breadcrumb mixture.
Heat ¼ cup in large skillet until it shimmers.
Add half the oysters and fry, turning once until browned and cooked through, about 4-5 minutes
Repeat with rest of oil and oysters.
Toast roll halves.
Layer oysters, tomatoes and lettuce on rolls
Serve with the rémoulade and lemon wedges.