Do you have a favorite restaurant? Is it one you and or your family have been going to for years?
If so, it may have met the James Beard Foundation® criteria for its Classics Award.
The famed food organization announced six recipients of its 2022 America's Classics Award on Feb. 16.
According to the Foundation, the Classics Award is given to locally owned restaurants that have timeless appeal and are beloved regionally for quality food that reflects the character of its community.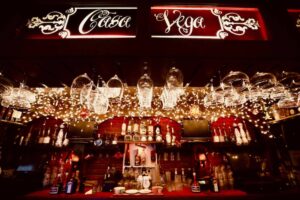 The 2022 Award recipients are:
Casa Vega (13301 Ventura Blvd, Sherman Oaks, CA; Owner: Christy Vega) She follows her father, Rafael "Ray" Vega who opened the Mexican restaurant in 1956.
Corinne's Place (1254 Haddon Ave, Camden, NJ; Owner: Corinne Bradley-Powers.) Opened in 1989, the home-style soul food restaurant is known for its smothered pork chops, sweet potato pie and classic fried chicken
Solly's Grille (4629 N Port Washington Rd, Milwaukee, WI; Owner: Glenn Fieber), is credited by its diners and owner as the original home of Wisconsin's famed, rich butter burger. Created by Kenneth "Solly" Salmon in 1936, it has ground sirloin, stewed onions and lots of Wisconsin butter.
Wo Hop (17 Mott St, New York, NY; Owners: Huang Family) Wo Hop has inhabited the basement level of its Mott Street building since 1938 where Ming Huang describes his family's eatery as dishing up "old-fashioned chop suey-style" cuisine.
The Busy Bee Café (810 Martin Luther King Jr. Dr., SW Atlanta, GA; Owner: Tracy Gates) Opened by Lucy Jackson on what was then called Hunter Street in 1947. Frequented by Martin Luther King Jr. and other civil rights icons, it features soul-style dishes such as fried chicken, ham hocks, catfish, collard greens, macaroni cheese and cornbread, Under the Gates family the restaurant continues to be a gathering spot and a celebrity and tourist destination.
Florence's Restaurant (1437 Northeast 23rd Street, Oklahoma City, OK; Owner: Florence Kemp) Opened in 1952, Kemp turned her knowledge of farming into a local institution, where she works with daughter Victoria to serve ""good country food for the soul."
More than 100 restaurants across the country have received the Award since the category was introduced in 1998. They will be celebrated at the James Beard Restaurant and Chef Awards ceremony on June 13 at the Lyric Opera of Chicago. Presented by Capital One, the ceremony is hosted by Choose Chicago and the Illinois Restaurant Association.
The James Beard Awards mission now reads that is to "recognize exceptional talent and achievement in the culinary arts, hospitality, media, and broader food system, as well as demonstrate commitment to racial and gender equity, community, sustainability, and a culture where all can thrive."
The 2022 Awards will be the first in two years following a hiatus when they underwent an audit of policies and procedures to remove bias, increase transparency and accessibility, and make the program more aligned with the Foundation's mission and values
For past recipients visit JBF America's Classics | James Beard Foundation and America's Classics Award Winners | James Beard Foundation