When you need a fancy, tasty, easy dessert consider crème brulee which can be made ahead of time. It's just 1/2 hour cooking time, then a quick stop under the broiler.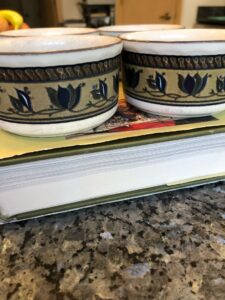 Ingredients
5 large egg yolks
¼ c granulated sugar
3 Tablespoons white or light brown sugar
1 ½ c whipping cream
¼ Vanilla bean split
Directions
Preheat oven to 350
Whisk together yolks and ¼ c sugar
Pour whipping cream into saucepan
Scrape vanilla bean over cream then place bean into pan.
Heat until cream simmers then set aside for 5 minutes.
Pour cream into yolk mixture and stir while pouring.
Strain through fine mesh and pour into ramekins
Add water to a pan until one inch high then place ramekins in the pan of water.
Place in oven. Bake about 25 minutes until mixture is set but still wobbly.
Cool. Can be covered and refrigerated over night
Sprinkle tops with 3 T regular or light brown sugar and rotate under the broiler until sugar caramelizes but isn't burnt.
Serve with strawberries or raspberries.