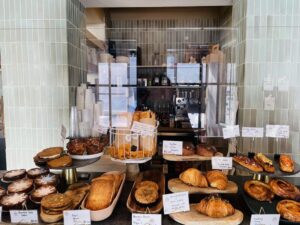 The James Beard Foundation took time off during COVID's restaurant closures to examine past recipient awards. The result seen in the 2022 nominees, and more recently, the finalists announced March 16 at Casa Paloma in Paradise Valley, AZ, was a more culturally diverse field.
Winners will be named at an awards ceremony at the Lyric Opera of Chicago June 13, 2022. For tickets visit JB Awards Ceremony beginning March 20.  The event will be broadcast live via the James Beard Foundation's Twitter feed.
Among the categories announced are Outstanding Restaurateur, Outstanding Chef, Outstanding Restaurant and Best New Restaurant mentioned below.
Three Chicago chefs/restaurants are among the finalists. Chef Jason Vincet of Giant is among the Outstanding Chef nominees, Chicago's Parachute is a finalist in the Outstanding Restaurant category.  Chicago's Kasama is a finalist in the Best New Restaurant category.
Outstanding Restaurateur
Ashok Bajaj, Knightsbridge Restaurant Group (Rasika, Bindaas, Annabelle, and others), Washington, D.C.
Chris Bianco, Tratto, Pane Bianco, and Pizzeria Bianco, Phoenix
Kevin Gillespie, Red Beard Restaurants (Gunshow and Revival), Atlanta
Akkapong "Earl" Ninsom, Langbaan, Hat Yai, Eem, and others, Portland, OR
Chris Williams, Lucille's Hospitality Group, Houston
Ellen Yin, High Street Hospitality Group (Fork, a.kitchen + bar, High Street Philly, and others), Philadelphia
Outstanding Chef
Reem Assil, Reem's, Oakland and San Francisco, CA
Mashama Bailey, The Grey, Savannah, GA
Peter Chang, Peter Chang, VA and MD
Jason Vincent, Giant, Chicago
Rachel Yang and Seif Chirchi, Joule, Seattle
Outstanding restaurant
Brennan's, New Orleans
Butcher & Bee, Charleston, SC
Chai Pani, Asheville, NC
Parachute, Chicago
The Walrus and the Carpenter, Seattle
Best New Restaurant
Angry Egret Dinette, Los Angeles
Bacanora, Phoenix
BARDA, Detroit
Dhamaka, NYC
Horn BBQ, Oakland, CA
Kasama, Chicago
Leeward, Portland, ME
Owamni, Minneapolis
Oyster Oyster, Washington, D.C.
Roots Southern Table, Farmers Branch, TX
Ursula, NYC
For more categories visit James Beard Awards nominees.