Chicago Restaurant Week has returned just as COVID numbers and restrictions are down to the point where eating out is again a viable option.
More than 340 restaurants in 35 neighborhoods and a handful in the burbs, have tempting prix fixe menus of their specialties during Restaurant Week March 25 through April 10, 2022.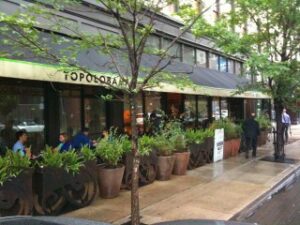 A 17-day tasting experience of some of the city's most acclaimed eateries and newest additions to Chicago's foodie scene, the annual event offers diners options from multi-course menus at $25 for lunch/brunch and $39 or $55 for dinner depending on the restaurant. (beverages, tax and gratuity not included). (Some takeout/delivery options available)
Restaurants range from American, Asian , Caribbean, Ethiopian, Mexican and other cultures to Vegan and BBQ
For example:
Avec River North, a high-end rustic Mediterranean eatery on West Erie, is doing a Brussels Sprout salad with marcona almonds and pickled golden raisins and Manchego cheese or black lentil soup with smoked yogurt and urfa chili for its First cource and fried cod with smoked pepper Romesco or wood oven paella with morcilla sausage, mussels and tangerine aioli and a dessert of handmade gelato or sorbet $25 lunch (55 dinner).
Bloom Plant Based Kitchen in Wicker Park is offering two dinner options, $39 and $55, serving among other dishes, ceviche, braised jackfruit, plantain lasagna and kelp noodles with cashew crema.
Columbus Tap, an American-style restaurant on Columbus Drive has a first course of spice roasted carrots with yogurt and nuts, second course of poached sable fish or braised pork belly with sides and desert of sticky toffee pudding.
Duck Duck Goat, Fulton Market's famed Chinese place,  has a $55 dinner menu of beef short ribs and bone marrow pot stickers, shrimp and pork shumai, green beans with black bean garlic sauce, cashews, beef and broccoli wood fired.
El Solazo in the West Lawn neighborhood on West Elsdon has contemporary and classic Mexican dishes (bar with rare agaves) features queso fundido and chilaquiles at brunch and Yucatan pulled pork tostadas and churro bites at dinner. Brunch $25, dinner $39 and $55.
Frontera Grill, Rick Bayless' always popular place in River North on North Clark Street with his upscale Topolobampo, is doing a $25 lunch and $39 dinner. Among the multi-choice options are a New England skate wing with limey serrano mayo, pickled onions and grilled heritage breed chicken breast, plantains and chicken chicharron.
Hinoki Sushiko, Chef Otto Phan's impressive Japanese restaurant (see featured image above) with is entered at 1465 W. Willow (mail address is 1721 N Elston). It has a $39 dinner that includes lamb gyoza, clam and yuzu pasta, match panna cotta.
The Indian/Portuguese Bar Goa offers, among other dishes, prawn and chorizo fried rice, pan-seared sea bass with Goan curry and butter chicken croquettes $25 brunch and $39 dinner.
Las Tablas on Lincoln, Avenue features South American cuisine with $25 multi-course lunch and $39 dinner menu that include, among other options Empanada Columbian stuffed turnovers in crunchy corn flour and Columbian fruit juices natural puree's, sopa platano vegan and chicken or pork or soy with salad, rice and beans.
To see participating restaurants, their menu choices and make a reservation go to the city's tourism site Choose Chicago's Participating Restaurants.
Reservations encouraged.