After learning about Felton BBQ grill brushes because the Canadian company was at the 2018 National Restaurant Show, I became interested in the brushes. I liked that they were high quality, but more importantly, that the wires would not break off and end up in the grill or in people's food.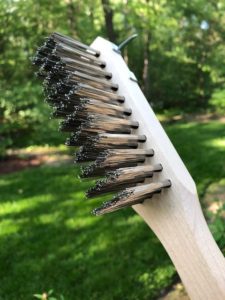 Of course I had to try it. The brush has a good, sturdy, 20 inch long Canadian maple handle that facilitates grill cleaning without coming in contact with hot surfaces. It's long, thick stainless steel wires have been doing a terrific job of cleaning the grill. But best, I don't worry that the wires will break.
So I called the company to find out more about its concept and manufacture.
According to Food Service Product Manager Braden VanDyk, the grill brush idea came about in 2015 when Felton owner Tony Ponikvar's dad said that a scrap welding  brush Tony gave him made a great BBQ brush,
VanDyk noted that the consumer and professional grill brushes they manufacture today were developed after Felton acquired assets and brush-making capabilities of the Ohio Brush Company when it was going out of business in 2014.
As to why the brushes are better, VanDyk said, "They are durable, and have a longer, thicker wire. They are about three times as thick as on other grill brushes."
He also said that the wires are made of steel from the United States and secured to Canadian hardwood in a specialized manufacturing process at the factory in Canada. He also suggested storing the brush indoors so it is not subject to rain or harsh conditions.
Felton makes several broiler and grill brushes for commercial and home use. The one pictured here that I have is from the Chef 704 series. It came out about 1 ½  years ago and is available on Amazon.
To see other brushes visit Chef Felton.
Related:  Easy to use and store food processor