Don't worry if there is a line inside Ambrosia, a Euro-American patisserie in Barrington, IL. The place is a popular spot to breakfast on sweet or savory croissants with excellent coffee and to pick up pastries and cakes for company.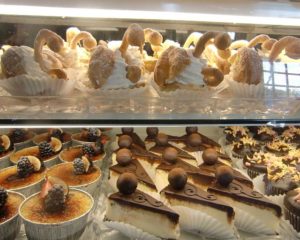 But the wait won't be long. Owner Debby Rivera and her crew will have seen you come in the door and will be taking care of patrons at a pleasing pace.
When you can tear yourself away from the pastry case, move left to say what you want at a tiny counter where you are served.
There are tables inside and out in front if eating there. BTW It's OK to bring your morning newspaper. You won't be hurried.
Yum alert: Chances are you will leave with more than you first thought, whether there for breakfast or to find a dessert for company.
All it takes is just one bite of an almond, chocolate, smoked salmon or ham and cheese croissant or a lingering gaze at the cakes and desserts in the pastry case to know you want a treat for later. Ambrosia is a perfect description of the patisserie's delicate textures, flavors and eye appeal.
Started by Debby and husband Richard Rivera, an experienced hotel chef, Ambrosia has been turning out special occasion cakes, yummy tortes, cute holiday desserts and really good breakfast pastries for more than 26 years.
Chef Richard died in 2016 but Debbie and her talented staff have kept the patisserie's reputation intact with their dedication to high-quality ingredients and know-how.
Ambrosia is in the Foundry, a shopping plaza at 710 W Northwest Hwy, Barrington, IL 60010, (847) 304-8278.
Related:  Breakfast counts too