Okay I am one of the most jaded people I know. I have seen too much and tried too many things. Well today I was excited to have a delicious new experience.
The place is Gordo's under Chicago's Red Line elevated station at Granville. Owned and operated by the same people from Flaco's Tacos next door, this frozen confectionary makes and sells "homemade" ice cream bars and paletas.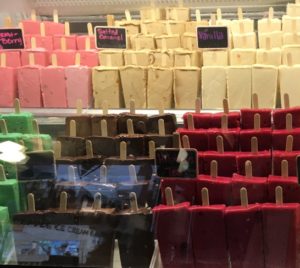 Paleta which comes from the Spanish word for "small stick" is basically an ice cream bar but often made with non-dairy ingredients. At Gordo's the word paleta is used to refer to their non-dairy options as opposed to their more basic (if I dare say that) ice cream bar.
Entering the small shop with the rumble of the train overhead you are greeted with three signs that say PICK – DIP –SPRINKLE. A glass frozen-food cooler artfully displays a selection of colorful ice cream bars standing at attention in neat little rows. I counted ten or twelve options on my visit which included flavors like horchata (rice milk and cinnamon) and a blended avocado and banana.
My lactose intolerant companion chose the "virgin" avocado and banana (with soy milk), while I chose the same but dipped in dark chocolate with toasted almond. OMG! I am not kidding. This was delicioso.
If you like chocolate covered frozen bananas you're going to love this creamy interpretation. Also green is a fun color for a frozen dessert. In this case the avocado flavor is very subtle but I think it brings a lot of the creamy texture to the party.
Dense and creamy with a generous sampling of dark chocolate and almond in every bite, the paleta is about five inches by two and a half inches and a little over a half inch thick.
If there is a drawback to this treat it is its generous portion. This is a commitment. In fact I would consider this the equivalent of a frozen smoothie and have it for lunch. The good news is it's priced between three and five bucks which makes it moderate for a premium quality dessert item.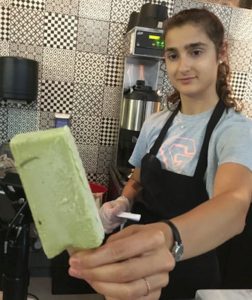 Rumor is that Gordo's is currently conceived to be open only during the summer months. But if their plan to add donuts (think custom made churros) materializes, they may be open year round.
Move over lemon ice and gelato – paleta is in town.
I suggest you do not let the summer pass by without a trip to Gordo's at 1120 W. Granville in Edgewater just a few blocks from Sheridan Road or Broadway in either direction. Or simply hop the red line and beat the traffic. You could probably head home on one transfer.  For hours and other info visit Gordo's. They also have a Printers Row location.
Reno Lovison
(Ed note: paletas are very popular in LA)
Guest reviewer Reno Lovison also writes theater reviews and is executive producer at ChicagoBroadcastingNetwork.com.