Farmers markets are great for picking up the zucchini, kale and herbs or the ingredients for ratatouille because during Midwestern summers the markets are often in nearby neighborhoods or towns. But sometimes the market occurs on a day already busy or its summer run is too short.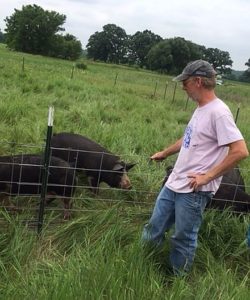 I found a couple of fresh-from-the-farm alternatives on a recent trip out to West Dundee.
It was sort of a you-can-have-your-cake-and eat-it-to experience sponsored by the Fresh-Picks Farmer Alliance.
Founded and operated in Niles by Irv Cernauskas and wife, Shelly Herman, Fresh Picks works with small Midwestern farmers to get their products to wholesalers, co-ops, restaurants, grocery stores and consumers in a timely, efficient manner. It does all this to relieve the farmers of such additional jobs as packaging, selling and distribution.
Our recent Dundee excursion was a two-for-one destination to All Grass Farms operated by Cliff McConville and Bob's Fresh & Local Farm, operated by Bob Vierow. Located in Dundee, it was about 45 minutes northwest of Chicago's  Loop
There was a small but excellent store on the grounds. BTW, the grounds are 150 acres of the Kane County Brunner Family Forest Preserve leased to McConville with acreage subleased to Bob.
Following a hay-wagon farm tour to see Cliff's animals and Bob's vegetable rows, we stopped at the store to buy items to take home.  The coolers were stocked with veggies, eggs, beef, pork, poultry and raw milk. Other individually produced items were also on the shelves such as sauces and local honey.
Well, the store was jammed with regular customers. That was understandable given the high quality, healthiness of the products.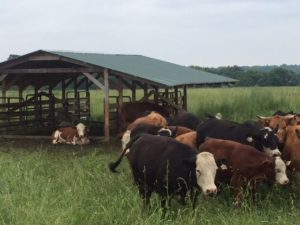 After seeing how he cared for his beef and dairy cattle, hogs, turkeys, free-range broiler chickens and laying hens and how Bob grew his vegetables and herbs, I will be driving back out to pick up more products than I could carry that day on our bus and then my train.
The veggies are certified organic. The farm animals are pastured, thus the name All Grass Farm.
What was impressive on the tour was to see how much Cliff cared about good treatment of his animals. Their pasture was organic, the cattle and poultry are never given hormones or antibiotics, and they all are frequently moved to other pastures and spaces.
I also tasted raw milk for the first time. Wow. It was wonderfully rich.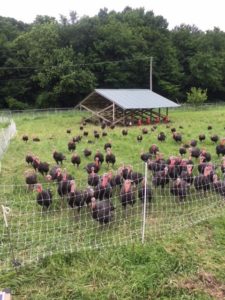 When asked about the Fresh Picks Alliance connection, Irv and Shelly explained that All Grass was one of three of their hubs and that the other two hubs were  Springdale Farm in  Plymouth, WI and PrairiErth Farm, Atlanta, IL. They also work with farms  near the three hubs.
In addition, Fresh Picks has grant dollars to aid the farmers with their facilities such as a recently purchased walk-in cooler for All Grass. "It feels really good to support these farmers," Irv said.  He added that Fresh Picks is helping farmers transition to the wholesale market.
My next step is to order something from Fresh Picks. They deliver to customers from Chicago to Milwaukee.
About the farm tour:  All Grass does a hay-ride tour at 2 p.m. every Saturday from  early May through thanksgiving. The store is open daily from 10 a.m. to 6 p.m. To find answers to other questions go to All Grass FAQs. All Grass Farm and store is on the Brunner Family Forest Preserve at 18N681 IL IL Highway 31, Dundee, IL  60118.