The next sandwich or salad you buy at O'Hare International Airport could be so locally sourced, the greens were harvested in the hallway.
Herbs and vegetables are thriving in the world's first airport aeroponic garden, located on the mezzanine level of the Rotunda Building in Terminal 3. Airport restaurants share the bounty on their menus.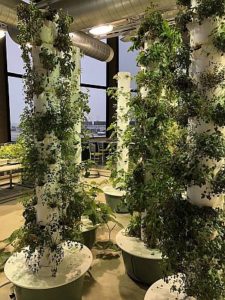 Aeroponic gardening is a method of growing plants without soil. Instead, plant roots are misted with a nutrient solution during a regular watering cycle. It's a self-sustaining process that reuses water and prevents evaporation. In addition, no fertilizers are chemicals are used. The technology results in tasty, nutritious plants, and it allows growers to produce more food in less space and in less time.
At O'Hare's nearly 1,000-square-foot garden, 26 illuminated towers house more than 1,100 planting spots. A tranquil seating area where ticketed passengers may relax amid a green oasis and await their flights surrounds the space.
The garden grows dozens of vegetative types including lettuces, dill, cilantro, basil, parsley, chives, habanero peppers and green beans. Among the eateries incorporating the produce into their menu offerings are Tortas Frontera by Rick Bayless, Tuscany Cafe and Wicker Park Seafood and Sushi.
The garden, installed in 2011, is a collaboration between the Chicago Department of Aviation and HMSHost Corporation which operates the airport's food concessions.
The initiative supports the CDA's commitment to environmental sustainability. The department developed the Sustainable Airport Manual, a comprehensive guide to implementing sustainable initiatives across all airport activities, which has been adopted by airports worldwide. It also created the Green Airplane Certification program to recognize the sustainability of airport-related administrative activities associated with planning, design, construction, maintenance and daily operations.
The O'Hare aeroponic garden has achieved Green Airport Certification in the Concessions and Tenants Design and Construction category.
According to Gregg Cunningham who coordinates CDA's special projects, the growing towers were replaced last year. "The previous towers were donated by HMSHost to Schurz Chicago Public High School for its Food Science Lab," said Cunningham.
By Pamela McKuen