With the recent launch of Santo Cielo, a small but mighty culinary group known for excellence in traditional Mexican fare has gone global. The name of the new restaurant and lounge translates to "good heavens," a play on both the elevated menus and the location atop the Hotel Indigo in Naperville.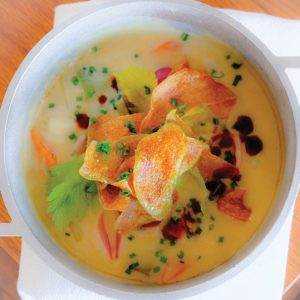 Santo Cielo is the fourth enterprise in the Bien Trucha Group restaurant portfolio, joining Bien Trucha in Geneva, A Toda Madre in Glen Ellyn, and Quiubo in Naperville.
"What we wanted to do is make something completely different," says JC Gonzalez-Mendez, Bien Trucha's chief strategy officer and partner. "We wanted something chic and elevated that pays tribute to food around the world, not only Mexico."
Led by culinary director Abel Cortes, the internationally-inspired menu includes scallop chowder, brisket sliders with pickled cucumber, miso-glazed sea bass, and charred Spanish octopus. The pizzetta is a palate-pleasing layering of avocado, serrano chile, fennel, cilantro and lime. And the frites–the oh-so-addictive frites–are accompanied with hot-sauce aioli and charred tomatillo catsup.
"We are getting out of our comfort zone, but we are keeping our DNA, which is seasonal ingredients," says Julio Cano, Bien Trucha chief business officer and partner. "Here we do the same, but it's seasonal food from all over the world."
"It's a kitchen without boundaries," Gonzalez-Mendez says. "The only limit is we don't have a freezer. Well, we have a small freezer for the ice cream, but the rest is all fresh."
Equally intriguing are the specialty drink offerings, many of which are original creations or new twists on classic cocktails. The Cuba Libre, for instance, is concocted with aged silver rum, lime, angostura and cola foam.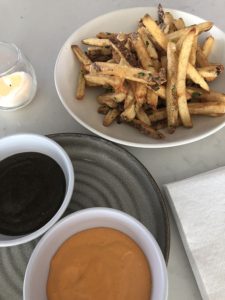 The restaurant is tastefully decorated in a contemporary style with expansive windows that frame Naperville's downtown skyline and meandering riverwalk. An open kitchen showcases chefs at work, and carefully curated music plays in the background.
"We want people to come back for the food, but we want them to remember us for the experience," Gonzalez-Mendez says.
Bien Trucha's first three restaurants have gotten high marks and avid followers. Santo Cielo is expected to follow in like fashion.
Santo Cielo is at 123 Water St., Suite 509, in Naperville. A limited number of reservations are accepted, so walk-in guests can be accomodated. For information and reservations, call (630) 323-0700 or visit www.stcielo.com
Pamela Dittmer McKuen