Rick Petrocelly who grew up dining on and cooking Italian dishes is passionate about using extra virgin olive oil. He even fries his eggs in it for breakfast. So, he not only owns the Olive tap in Long Grove, IL, he also holds the occasional chat there to explain the difference between what people see on store shelves and what they can find in a good olive oil specialty shop.
After listening to his last chat I asked him to share some of his olive oil tips during an in-person interview. Next time he and I will talk about balsamic vinegar,  what to look for and what aging means.
Here are some of Petrocelly's olive oil tips and a recipe from his Olive Tap web site.
Melanie's Chipotle Dark Chocolate Southwest Chicken Salad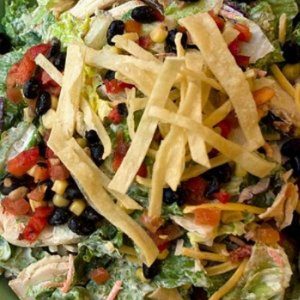 Ingredients
6 C. shredded romaine lettuce
2 C. roasted skinless boneless chicken breast, cooked, shredded and seasoned to taste with The Olive Tap's Fajita or Taco seasoning
1 C. cherry tomatoes, halved
4 Green onions, chopped
1 Avocado, diced
1 C. black beans, rinsed and drained
1 C. corn (if frozen, thawed
If canned, rinsed and drained)
1/2 C. shredded cheddar cheese
1/2 C. The Olive Tap's Chipotle Olive Oil
1/4 C. The Olive Tap's Dark Chocolate Balsamic Vinegar
(Optional as garnish: 1/4 c chopped cilantro or crushed tortilla chips)
Directions
Step 1

For Vinaigrette: Whisk together Chipotle Olive Oil and Dark Chocolate Balsamic Vinegar until emulsified…set aside. Add salt and pepper to taste.

Step 2

For the Southwest Chicken Salad: Combine lettuce and all remaining ingredients in a large bowl.

Step 3

Drizzle dressing over the southwest chicken salad and toss to coat.

Step 4

Add any optional garnishes before serving and enjoy!
TIPS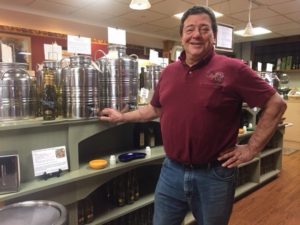 "It's not a good idea to put raw garlic cloves into olive oil to flavor it because of botulism but you can put roasted garlic into olive oil. (He sells an excellent roasted garlic olive oil from a California vineyard where he knows the owners/growers).
When asked about other seasonings he likes the olive oil he is infused with Tuscan herb seasonings. "It's already in, and good for dipping bread – you don't have to add anything."
Asked why use extra virgin olive oil he says it's healthy and can replace butter. "It is high in polyphenols so it is an antioxidant, it is anti-cancer and anti-inflammatory."
He recommended tasting some olive oils before choosing one to take home. His containers with taps are arranged from light to more robust, similarly to doing a wine tasting. Description cards are on each container so people know what to expect.
As to age, he says, "We carry only fresh extra virgin olive oils and we date the bottles so they have harvest date and best use by dates. Best is to use in three to six months' time, but the higher the quality the longer they can be kept… 18 to 24 months from the day made."
He notes that quality is important. "The higher the polyphenols, the higher the temperature you can use to fry or grill the dish and the longer the oil will last.
Petrocelly likes robust olive oils from Italy, Greece and Spain such as the Greek Koroneiki. "It's nice, buttery."
He suggests looking and tasting award-winning olive oils because they have already been ranked in competitions.
"If you see olive oil on sale in a store, it is not a bargain. It's old. Remember, after picking, the olive is milled then the oil is packed, sent and distributed.
"There is a lot of fraud in marketing olive oil." He showed a can that said extra virgin olive oil, first cold press in large letters but in tiny print up at top, the fine print it listed olive oil and another another oil.
"A study at UC Davies found that 67 percent of olive oil that said extra virgin failed the test," according to Petrocelly.
"If it's a refined product, it can't be extra virgin, because extra virgin is unprocessed, unrefined. Extra virgin is like taking an olive fresh from the tree and squeezing out oil. The others are older, or have fallen on the ground will be refined. They are not acceptable by flavor or chemistry so they must be refined."
As to storage, he recommended a cool dark spot. "Avoid direct sunlight and heat.  It's OK to store in the fridge, but you have to allow it to come up to room temp before opening otherwise you can get condensation which will shorten the life of the oil."
Another recommendation: "Decant a month's supply from the bottle into a cruet or other handy bottle and reseal the original oil bottle and store in the refrigerator.  Repeat as necessary.  This helps avoid a constant exposure to fresh air (oxygen)."
Regarding flavored oil he says, "Once you add flavor to an oil, it can no longer be referred to as extra virgin.  Extra Virgin is and must be pure, with nothing added." He notes that a Chipotle oil he recommended was extra virgin before the flavoring was added.