Chefs and food industry gurus congregated at the Lyric Opera of Chicago, May 7, 2018 to hear James Beard Foundation's 2018 awards.
The seven top categories' winners were Seattle's JuneBaby for "Best New Restaurant," Birmingham, AL's Highlands Bar & Grill as "Outstanding Restaurant, Gabrielle Hamilton at NYC's Prune as "Outstanding Chef," San Francisco's B. Patisseries's Belinda Leong and Michael Suas as "Outstanding Baker," Dolester Miles at Birmingham, AL's Highland Bar & Grill as "Outstanding Pastry Chef, Caroline Styne of Los Angeles' The Lucques Group as "Outstanding Restaurateur" and Camille Cogswell at Philadelphia's Zahav as "Rising Star Chef."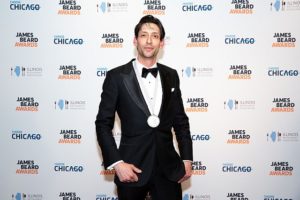 The James Beard Awards, begun in 1990, go to culinary professionals "for excellence and achievement in their fields." The 2018 award ceremony theme was "Rise" to recognize the culinary community's collective spirit and the power of food. Some of the angles individuals used on their Rise signs included "Locally Sourced Food" and "Integrity."
Among the other awards, San Francisco's Zuni Café won "Outstanding Service, Charleston, SC's FIG won "Outstanding Wine Program" and  Rutherford, CA's Miljenko Grgich of Grgich Hills Estate won "Outstanding Wine, Spirits or Beer Professional."
In the regional categories "Best Chef: Great Lakes" went to Abraham Conlon of Chicago's Fat Rice, "Best Chef: Mid-Atlantic" went to Jeremiah Langhome of Washington, D.C.'s The Dabney, Best Chef: Midwest" went to Gavin Kaysen of Minneapolis' Spoon and Stable, "Best Chef: New York City" went to Missy Robbins of Brooklyn's Lilia, "Best Chef: Northeast" went to Karen Akunowiczof Boston's Myers + Chang, "Best Chef: Northwest" went to Edouardo Jordan of Seattle's Salare,
"Best Chef: South" went to Nina Compton of New Orleans' Compere Lapin, Best Chef: Southeast" went to Rodney Scot of Charleston, SC's Rodney Scott's BBQ "Best Chef: Southwest" went to Alex Seidel of Denver's Mercantile dining & Provision and "Best Chef: West" went to Dominique Crenn of San Francisco's Atelier Crenn.
See the complete list of winners at JBF.