Chocoholics have a restaurant designed with their cravings in mind. It's The Chocolate Sanctuary in Gurnee, IL.
However, the food is so good that even non-chocolate lovers will appreciate Executive Chef Jeff Tomchek's talent for mixing sweet and savory ingredients and Pastry Chef Hailey Turso's creativity for yummy desserts.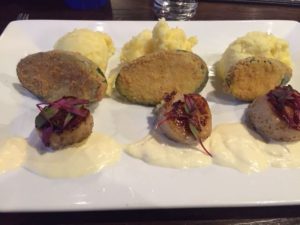 Dining Out-Eating In recently went there for a repeat experience to be sure the quality enjoyed last fall was still important.
One way to compare restaurants is to order the same entrée. So a seared scallops dish (a favorite order) was among the choices.
The scallops were perfectly prepared, a tricky feat to not over-cook them. They were accompanied by zucchini slices that had been soaked in buttermilk, coated with a flour/spice mix and lightly fried in rice oil, so they provided just the right crunch to balance the firm but tender scallops.
I requested the chocolate nibs that was listed on the menu with the scallops be left off even though I really love that bean.
Also ordered and shared to rave reviews was pan-seared cod that was finished in the oven and accompanied by sautéed spinach, sweet potatoes and a pecan cream sauce.
For dessert we tried the tiny taste versions of Chef Turso's pecan pie and tiramisu.
BTW, the butter here is chocolate flavored as are the rolls but non-chocolate butter is also available.
If dinner, or lunch or brunch (they may already be totally booked for Mothers Day) just whets the appetite for more chocolate, the restaurant sells house-made candies and chocolate bread to go, so check them out up front before you leave.
The restaurant's ambiance is pleasantly relaxed but owners Bill and Donna Collazo also stress service. They and their wait-staff understand that people have allergies and preferences.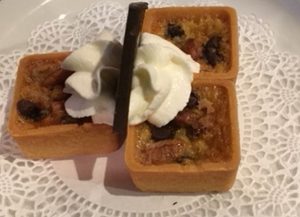 Next time, and there will be another time so we can share our find with other friends, we will chose a meat entrée to share because the restaurant uses Allen Brothers, a longtime Chicago-based company that supplies steaks to some of the best steak houses in the country.
The Chocolate Sanctuary is at 5101 Washington St, Gurnee, IL For reservations and more information call (244) 944-0808 or visit Chocolate Sanctuary.. Dinner reservations are highly recommended.
Jodie Jacobs
Related: Three Embers