Chicago really has become a foodie's town but visitors and residents shouldn't just look to the city for innovative dishes, appetite inspiring presentations and most important, really well-prepared food.
Recently, I discovered Three Embers, the new signature restaurant of the recently remodeled Marriott Lincolnshire Resort. North of Chicago about 25 miles, I fell taste buds over appearance with Executive Chef Yo's Pan Seared Scallops. 
I often test a restaurant by ordering scallops, a personal favorite. This dish was not just visually appealing. The scallops were perfectly prepared, thank goodness not over cooked, They were  accompanied by beet puree, toasted quinoa, citrus butter and roasted broccoli. Yum.
I do know that Chef Yo often changes the menu. Well, of course. He is creative and enjoys trying new preparations.
But when asked where I wanted to go for my birthday I told my husband Three Embers. This time I ordered the Colorado Lamb Shank. I have to admit that osso buco is another personal favorite but some places I've tried, it is sometimes disappointingly dry or with too little meat.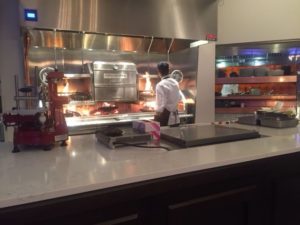 Chef Yo's dish with its coffee rub Swiss chard and smoked cheddar grits was juicy, tender, filling and so good I was sorry I didn't leave some to take home for another meal.
Maybe I should have ordered a salad so I wasn't as hungry. But I did make up for it with more than one pillow-style roll baked by Pastry Chef Jessica. BTW the butter is honey flavored by Chef Yo's on site beehive.
The restaurant's ambiance leans toward an upscale industrial look rather than romantic or intimate. But I liked the high-end grill and the open kitchen.
Tip: If planning to go, make a reservation for 7 p.m. or later. The resort is home to Marriott Theatre which has a large subscription base of people who like to eat at the resort before the show so tables are at a premium.
Three Embers is at Marriott Lincolnshire Resort, 10 Marriott Dr., Lincolnshire. For more information visit Three Embers Restaurant and Menus.
©Photos by Jodie Jacobs, 2018