On a recent visit back to Door County, Wi, I stopped back at The Cookery, a fave restaurant that has been in the cute town of Fish Creek since Dick and Carol Skare opened it in 1977.
On early visits I opted for a chicken salad sandwich or the Door County Cherry Salad (which now also has yummy apples in it.)  Both are delish. No way would I have chosen the restaurant's famed whitefish chowder because even though I love chowders, I always avoided anything with whitefish.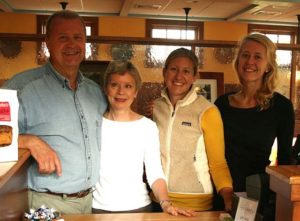 Encouraged to at least try it by the Skare's daughter, Courtney, who is now involved in daily operations with sister Karin, I agreed and tentatively dipped in a spoon. Wow!
No fishy taste. There was such a rich blend of flavors that one taste, even one cup of soup would not suffice.
Fortunately, the Skare's were willing to share their recipe with Dining Out-Eating In. But they had to cut their restaurant-sized, feed-a-crowd recipe down to what could be served at a dinner for eight or as a first course for lunch for 10.
BTW, if readers do go to Door County and want to eat there, best plan is to call ahead to have a name written down on the wait list because the restaurant does not take reservations. A nice place to eat during warm weather months is upstairs on the outside deck with a view of Green Bay (the water not the city).
The Cookery is at 4135 Main St. (Wisc. Highway 42), Fish Creek, WI, 54212. Hours: 8 a.m. to 8:30 p.m. Sunday-Wednesday and until 9 p.m. Thursday-Saturday. For more information call (920)868-3634 and visit The Cookery.
Related Door County Travel:  The Door, a heavenly vacation spot belies its death passage name.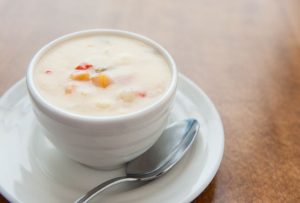 The Cookery's Whitefish Chowder
June 4, 2018

Makes 8 large servings Servings
Ingredients
1 1/2 pounds of whitefish fillets
2 cup water
1 t. salt
2 cups peeled diced potatoes
1/2 cup diced carrots
1 cup diced onion
1/2 cup diced green bell pepper
1/2 cup diced red bell pepper
2 t. Angostura bitters
1/4 t. freshly ground black pepper
1 t. garlic powder
1 T. fresh lemon juice
24 oz. clam juice
4 cups milk
1/2 cup bacon fat
1/2 cup flour
Directions
Step 1

In a large six quart kettle or stockpot, place water and whitefish.

Step 2

Bring to a boil over medium high heat.

Step 3

Reduce heat and simmer, covered, 15 minutes or until fish flakes easily with a fork. Remove fish from broth and set aside.

Step 4

Add salt, potatoes, carrots, onions and green and red peppers to fish broth.

Step 5

Boil, covered, about 10 minutes or until potatoes and carrots are tender/crisp.

Step 6

Add hot pepper sauce, bitters, black pepper, garlic powder, lemon juice, claim juice and milk.

Step 7

Bring to a boil reduce heat and let simmer while making the roux.

Step 8

In a heavy medium saucepan, heat bacon drippings until completely melted and gradually whisk in flour.

Step 9

Let cook over medium heat, whisking constantly for one minute.

Step 10

Slowly whisk roux into simmering chowder.

Step 11

Gently stir in reserved fish blend with other ingredients. Serve hot.