The annual four-day International Home and Housewares Show at Chicago's McCormick Place for 2019 just ended March 5. If you know McCormick Place you know that there are always too much to see and do at the IHA show. So, it's challenging to pick a few items to feature. However, here are four  items that should make life in the kitchen more fun, interesting and easier, and one item that would be a good Mother's or Father's Day gift.
These items were in In the IHA Smart Home Pavilion in the Hall of global innovation. They are all ready available on line so you won't have to wait until next year for them.
I have not personally bought or tried any of them but am attracted to them for their potential because I remember when the keurig beverage maker first came out in 1998 and I thought why make just one cup. But I learned really quickly that it was a great way to serve family and friends exactly what they wanted. Guess time will tell on the products mentioned here.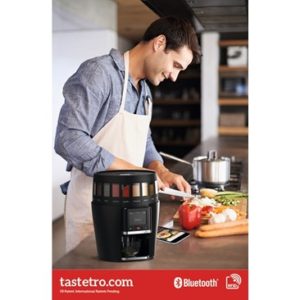 Spice System
First on my list is TasteTro Spice System, a machine that is like a spice rack except this blends however much and whatever you choose of 20 spices so you have your own mixture.  It comes with 20 popular spice pods that can be changed. But here is the video so you can see and hear all about it.
Temperature and time control cooking system
Next, is the Hestan Cue. Because it has an induction burner that controls the temperature and timing of its apps' recipes, it takes out a lot of the "Oh no" and "oops" mistakes made by folks in a hurry or who haven't had the years of timing experience of their parents. I've had more years than I will admit of trying new recipes but when it comes to timing I still have an occasional "d…n." Here is the video that explains how it works.
All in one chop and cook system
Third is Thermomix, one machine that does what 12 different machines in the kitchen will do from blend to sauté. It comes with a WiFi Cook-Key recipe attachment.  Here is a video that explains it all.
Superior home brewing without mess
Fourth is a way to become a home brew-master with Beermkr. Yes, there are beer-making kits out there but this process which includes fermentation and customization tips looks like a winner that should catch on because it takes the mess out of traditional home brewing and, making good craft beer is more complicated than people think.  The video is long but excellent.
Digital photo frame
Lastly, here is a product for any room in the house that is good as a gift or for oneself. I've seen it in the home of a photographer. It is a digital picture frame by HDgenius where the picture is changed by connecting to Wi-Fi. A free app is downloaded so photos can be transferred from a mobile phone or other devise right to the frame. It can also do the photos as a slideshow.