If you don't mind waiting for a table you will be in for the kind of treat Chicago old timers used to get at such famed delis as Ashkenaz when it was on Morse Avenue until the 1970s.
Oh, and bring your appetite or ask for a to-go container because no matter what you order you are likely to have enough food for at least another meal.
My lunch companion and I shared the Black White Challah French Toast because it was sauced with white chocolate and milk chocolate. Yum. We washed that down with a chocolate shake we also shared. Actually, I have a craving for that shake as I write this.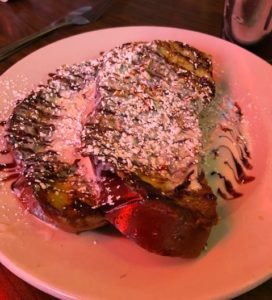 But we also wanted to try the Zenith Corned Beef and Pastrami sandwich because she loves pastrami and I like corned beef. Well, we did the best we could with the French toast and decided to take the sandwich, divided in two, with us.
This is definitely a place to go with friends and family so you can try different dishes and still have leftovers to take. I want to go back to try the brisket and the Mac& Cheese with at least four of the many ingredients that could be added to the dish. I also want to try their crafted root beer next time.
If you notice that the menu board on the wall says Rubin Ruben, that's because the restaurant is owned by Bradley Rubin who uses some of mom Roz Rubin's, recipes. Also look carefully at a map of the United States with letters that look like Hebrew on one wall. Look at its reflection in the opposite mirror to see words in English.
If there on a weekend you might find Roz taking names at the hostess desk. Other times she is in the kitchen making Gefilta Fish or helping with her matzo ball soup. She's also there cooking during Jewish holidays.
On the online menu Bradley ends with "Finish your plate." I think I can hear Roz (and my own mom) saying that.
BTW, Eleven City Diner just opened on LA's Miracle Mile at 5400 Wilshire Blvd. Find it on facebook.
(Disclaimer: I have a personal connection with the Rubins through our daughter, Sheri.)
DETAILS: Eleven City Diner, 1112 S. Wabash St., Chicago, IL. For information call (312 212-1112) and visit ElevenCityDiner.