While at the recent Chicago Good Food Expo, I was really impressed with the sheet-cake squares at the Mill at Janie's Farm booth. I loved their flavor, texture and that the products came from the company's organic farms. Also important was that the mill's flours were processed the old-fashioned way between cold mill stones but in a new, custom-made mill by the century-old Danish Engkso Company. Mill owner and fifth generation farmer Harold Wilken periodically shows people interested in organic farming around his farm and facilities during "Field Days."
Located at 405 N. 2nd St., Ashkum, IL, the Mill at Janie's Farm does wonderful-tasting artisanal breads that can also be ordered on line. However, the folks there were nice enough to share the recipe for Lime-Buttermilk Cake that I sampled at the Good Food Expo. The Des Plaines organic pastry flour used below is milled from soft red winter wheat. For more information visit Janie's Farm and Flours.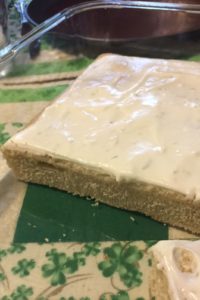 Batter Ingredients 
3 Eggs
300 g Sugar
250 ml Buttermilk
300 g Des Plaines Flour (the company names its different flour after rivers)
2 1/2 tsp. Baking sod
2 and a half Organic Limes (Juice and Zest)
Frosting Ingredients
1 1/2 to 2 Cups Plain Yogurt
1/2 an Organic Lime (Juice and Zest)
2 Tbsp Maple Syrup
Directions
Prehat oven to 350 F.
Beat eggs and sugar until fluffy
Combine flour and baking powder then alternately add buttermilk and the flour/baking powder mix in bowl.
Grate lime zest and squeeze limes for juice then mix into the batter and vigorously stir.
Bake 30-35 minutes. Let cake completely cool.
Mix frosting ingredients together then pour frosting on top of the cake.
Decorate with fresh fruits such as kiwis, blueberries or strawberries.
Related:  Margie's Brownies and Fresh Peach Coffee Cake