If you're heading to Jackson, Mississippi, this is one restaurant you don't want to miss. Named one of the James Beard award-winning legendary soul food restaurants, Bully's serves classic Southern cooking that will make you feel right at home. But first be warned, because the cookin' starts at 11:00 a.m. and ends at 6 p.m. every day, except Sunday when they're closed.  And the place is small, but worth the wait.
Bully's offers a full menu of made-from-scratch Southern classics that will tempt you to try everything. Their Southern fried catfish is crispy and delicious. Their best seller is beef tips with rice, which is as tasty as it gets. I also had their turkey legs with gravy and they were meaty and succulent. They do veggies best and you'll go crazy for their fried green tomatoes, spicy collard greens and fried okra. Bully's daughter, Tyrea, makes up the peach or other fruit cobbler for dessert every day. It is sensational with plenty of fruit filling and a delicious crust.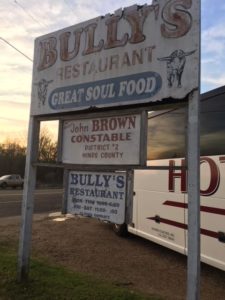 The décor features dozens of paintings and posters of prominent African-American leaders from Martin Luther King to Jesse Jackson to Barack Obama. Talking to Bully and his family is half the charm, learning more about the origins of their very popular restaurant that has been serving up authentic food since 1982 when built by Tyrone Bully and his father. Ma Pearl who worked in the restaurant for more than 18 years taught Tyrone all her recipes. Many of the wait staff have also been there 20 years of longer.
You'll see why Bully's is well worth a visit. Bully's Soul Food Restaurant is at 3118 Livingston Rd., Jackson, MS, (601) 362-0484. For more information visit Bully's.
Text and photos by guest contributor Mira Temkin