At a recent Taste of Iceland event at Conrad Chicago Hotel's Baptiste & Bottle Restaurant, guests were treated to some superb small plate samples and two really good cocktails. Here are the drinks created by 2016 National Brennivín Cocktail Competition winner Teitur Ridderman Schioth
Called "Weekend Getaway," the first drink was made with Iceland's popular Reyka vodka and was served in a delightful copper mug that looked like a Bathysphere but is a miniature still. It would work well with appetizers. Second, was "Strawberry Fields Forever" that would pair nicely with anything at a dessert party. It was made with Brennivín, an unsweetened schnapps considered Iceland's quintessential distilled liquor particularly popular for special occasions.
Weekend Getaway
Ingredients 
50ml Reyka vodka
25ml blueberry syrup
25ml fresh lemon
Eggwhite
Dry shake and shake with ice
Strain into a chilled travel mug (after all it's for a getaway)
Garnish with freeze dried or fresh blueberries (optional sprig of thyme)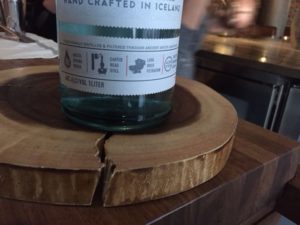 Strawberry Fields Forever
Ingredients
45ml brennivín
50ml coconut cream and 25ml strawberry syrup
15ml lemon
Shake
Double strain into a rocks glass with ice
Garnish lemon balm, minced strawberries and micrograted lemon zests
Reyka  vodka is made with water from the Gabrok Spring. The water is filtered through lava rocks. Reyka also uses a Carter-Head Still  because of its high copper content. The result is a small-batch product.  Drinking Reyka is similar to savoring wine. Check the nose, its palate and its finish.
Photos by Jodie Jacobs
Related:  Taste creative Iceland dishes and dine with a spectacular view and Iceland in Chicago