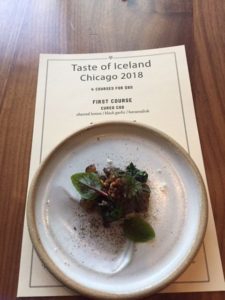 After tasting the following dishes at Conrad Chicago Hotel's Baptiste & Bottle restaurant I'm ready to visit Iceland for more of its great food and cocktails. For now, however, I'm simply hoping to return to the restaurant for another happy-eating Icelandic dinner created by Baptiste & Bottle Executive Chef James Lintelmann and Nordic Chef Team 2017 winner, Georg Arna Halldórsson.
The dinner is a four-course pre-fixe menu for $85, available now just through April 8, 2018. Good as it is, the Baptiste & Bottle's regular menu is also excellent and goes well with the restaurant's stunning views. The restaurant is on the 20th floor along with the lobby.
Taste of Iceland menu
It begins with Cured Cod served with charred lemon, black garlic and horseradish. It continues with a second course of Confit Arctic Char served with sea buckthorn, fennel and anise.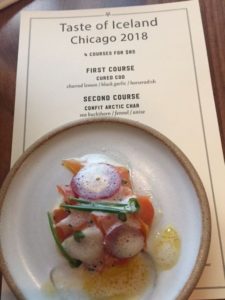 The entrée is Icelandic Free Range Lamb accompanied by sunchoke, brazil nuts and preserved lemon. For dessert, Icelandic Provisions Shyr  offers a taste of a terrific yogurt  with raspberries, beetroot and rye.
The Conrad Chicago Hotel is at 101 E. Erie St., a few steps west of North Michigan Avenue's Magnificent Mile. For reservations and more information  call (312) 667-6700 and visit Conrad.
Photos by Jodie Jacobs