Fortunately for our health, the land and our taste buds, the trend is for restaurants to feature local and sustainable products and grocery stores to carry organic produce and quality, antibiotic-free and additive-free products. However, a fun, yummy way to find out what is coming to the market and restaurants is to attend the annual Good Food Expo. The GF Expo also includes chef demonstrations and recipes.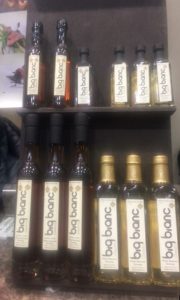 Unfortunately, the 2018 GF Expo already came and went at the University of Illinois Chicago campus the end of March. A two-day affair for trade and press only on a Friday and open to everyone on Saturday, it showcased chefs, vendors mostly from within 100 miles of Chicago, and companies/government agencies/universities who care about what is consumed and have related food programs.
I went on Friday but wished I had time to return Saturday. Among the booths I loved were Loyola University's Lakefront Campus' small-batch honey that is sold in a local farmers market, the garlic brats and other tasty sausages by Austrian-born Chef Martin, Chicago, the Italian Bean Soup made with spices put together and sold in Chicago-area stores by Lake Forest, IL -based The Zen of Slow Cooking, and the white balsamic dressing produced by Big Bianc (20! Calorie Dressing) that took first place at the 2017 National Restaurant Association Show.
After visiting the Good Food Expo this year and finding it to be as much of an interest to foodies as to buyers, sellers and the press, "Dining out Eating In" will let readers know about it in advance in 2019.
Photos by Jodie Jacobs