I had a chance to meet a friend today for lunch at Luella's Southern Kitchen in Lincoln Square.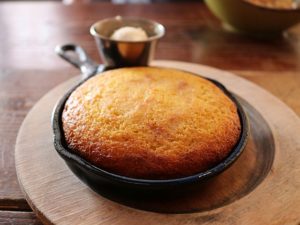 This simple country kitchen has rough-hewn wooden tables and chairs in a kind of dark dining room. You order at the counter then your food is brought to your table in the style of Panera or other semi-fast food restaurants. However, this is not really fast-food because the quality is too good and the prices are just a little more than you would expect from a fast-food joint.
Since this was our first visit we both opted to try the chicken gumbo. What better way to judge southern cuisine but by their gumbo? Let me simply say we unanimously declared that, "We shall return."
The ample dish was just spicy enough with adequate portions of sausage, chicken and other proteins. If you desire more heat, jars of hot sauce are available.
To complement our gumbo we chose one side of corn bread and one side of biscuits. Corn bread is cooked to order and takes about 20 minutes but it did not seem that long of a wait. It came served in a tiny cast iron skillet with a dollop of butter and was comfortable to share. There were two large biscuits served with peach preserves. I elected to have my cornbread with my gumbo and a biscuit for dessert.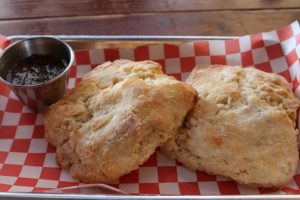 All-in-all a very flavorful, moderately priced lunch consumed in simple surroundings with minimal table service. At the time of our visit entrees were $8 to $15, Sides $5 to $8 and Beignets or Sweet Potato Pie Desserts are $5 and $6, respectively.
Luella's is across the street from the newly remodeled Davis Theater and down the block from the Old Town School, so it may be the perfect place for a relatively quick repast before or after a movie or concert.
There is paid street parking, as well as a few paid lots to the north and south. If it's a nice day consider parking for free around the Sulzer Library and walking over. Or better yet, take the Brown Line to the Western stop and explore the many shops and boutiques in the area.
Luella's Southern Kitchen is at 4609 North Lincoln Ave., Chicago.  Call (773) 961-8196 or order on line at luellassouthernkitchen.
Review and Photos by Reno Lovison