Germany's oldest brewery, Weihenstephan , founded nearly one thousand years ago in 1040 has teamed up with California-based Sierra Nevada Brewery to create a limited edition brew – – Braupakt.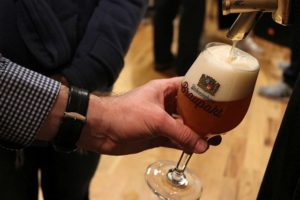 Representatives from both breweries were in Chicago April 19th to tap a keg at Throop Studios as part of their U.S. tour.
Braupakt is a distinct cross-Atlantic fusion.  Master brewmasters from both companies worked for seven months to create a unique mildly hoppy Hefeweissbier with citrus tones that takes advantage of the German brewery's proprietary yeast strain combined with American Amarillo hops.
I am a Weissbier fan and also a fan of hops so I found Braupakt to have a very slight tart and bitter flavor that is refreshing and palate cleansing. Weissbier is often thought of as summer beer and I would definitely enjoy this one sitting at my favorite biergarten on a warm afternoon. Now if the Chicago weather will ever cooperate this vision might turn to reality.
Sierra Nevada was founded in 1980 by Ken Grossman as one of the first craft beer breweries in the US. Renowned for its Pale Ale, it has become one of the best known American breweries.
The company is privately owned and in spite of its growing production, it works to stay true to its craft beer roots. Collaborations like this one with Weihenstephan are indicative of the company's desire to innovate.
It is unclear how long Braupakt will be available so ask for it at your favorite pub or grab a few bottles now to enjoy the best of both worlds – – "Old World Brewery" Weihenstephan and  "New World Brewery" Sierra Nevada.
Photos, video and text by Guest Reviewer Reno Lovison