Prep Time: 15-20 Minutes
Cook Time: 25 Minutes
Servings: 2 doz. depending on size cut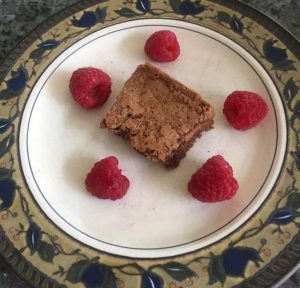 INGREDIENTS
2 cups cane sugar plus 1 cup butter
4 eggs
2 oz. unsweetened chocolate ( 4 of the old-sized Bakers now 8 of the current smaller split pieces)
1 teaspoon vanilla extract
1 cup flour plus pinch of salt
DIRECTIONS
Preheat oven to 350 degrees F
Grease 2 square 8 inch pans
In a large bowl, cream together sugar and butter until light and fluffy
Beat in eggs one at a time
Mix in flour and salt and stir into mixture
Melt chocolate and stir into mixture with vanilla extract
Spread 1/2 the batter into each square pan
Bake 25 minutes or until a crust forms
Place pans on a rack to cool (stove top gas burner protectors also work) and cut brownies while cooling
No frosting is needed because brownies taste like fudge if not over-baked.
Tip: These brownies are great with ice cream but also delicish cold from the fridge. Serve with fresh raspberries.
They also store well in the freezer when using wax paper horizontally between layers in a Glad or other plastic container with a tight top.
Nutrition Information
Calories: 175 per serving
Jodie Jacobs Editor