If burritos and tacos are your choice for food to take home or a casual lunch stop with friends, pop into The Station, a new, street-level storefront below Lake Forest's western RR station.
A small, space separated from the ordering area by a high divider, the inside tables line an  inviting, glassed-in patio.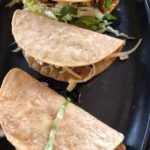 I went with a friend at 12:30 p.m. after working on the computer. We would have liked the outdoor option but we had waited a few days after the new restaurant opened so ended up going during a cold mid-April week.
I can't do spicy but found enough ingredients to add to my crispy tacos to make a tasty lunch. My friend did the soft tacos and can do spicy so she found the flavors and heat to her liking.
The menu boards on the wall say what to do in Steps 1, etc. and describe the ingredients, so no guessing. Plus they are all in containers behind the counter that you walk along as you order.
I didn't read Step 5 carefully which said Snacks and ordered the chips. Then, I realized they weren't part of the original menu cost but they were good, so no problem.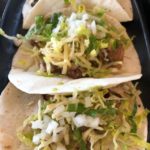 I liked the chicken and pork options and I add cheese to everything so not getting spicy sauces worked for me.
The Station is a quick lunch stop or pick-up dinner on the way home but that may change with warmer weather when friends want to gather on the patio.
The Station is at 840 S. Waukegan Rd., Lake Forest, IL To find the entrance pull into a small strip mall north of Everett Road on the west side of Waukegan Road and drive around left and back. The entrance is on the train station side of the mall.