St P:atrick's Day is usually celebrated from the Saturday before to the Saturday after March 17 in the Chicago area where a downtown parade, two large neighborhood parades and most bars and restaurants feature Irish inspired dishes and beer. But if going out is not on the do list, try something at home.
Here are an Irish Soda Bread and a Reuben recipe that probably use ingredients already on the shelf on in the fridge.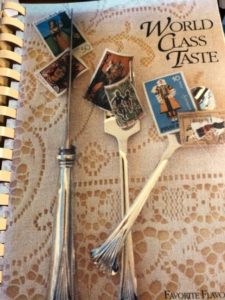 Irish Soda Bread
Recipe is from World Class Taste, a 1994 cookbook put out by the Lake Forest International Club. (Its proceeds go to charity)
Ingredients
2 ½ c flour
¼ tsp baking powder
1 tsp baking soda
½ tsp salt
¾ c sugar
¼ lb margarine
1 egg beaten
¼ pkg raisins
1 tsp caraway seeds
1 ¼ c buttermilk
Instructions
Sift dry ingredients, cut in margarine
Add egg and buttermilk and mix
Add raisins and caraway seeds
Grease loaf pan and preheat oven to 375 degrees
Bake at 375 for 10 minutes then reduce heat to 350 for 45 minutes
Cool on rack and serve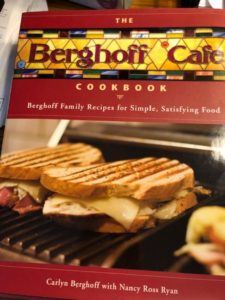 The Reuben is an easy, shortened version taken from the Berghoff Café cookbook I have been reviewing since it was publihed in 2009 by McMeel Publishing (Kansas City, Sydney, London). It is for a turkey Reuben for people cutting back on meat but works just as well by substituting corned beef for the turkey slices. Recipes are by Carlyn Berghoff with Nancy Ross. The following version was for 8-10 diners but I cut it for just one or two people.
The Berghoff doesn't need an intro for longtime Chicagoans but others should  know it is one of the oldest family owned restaurants in the city having been founded in 1898 by Herman Berghoff. BTW the restaurant does some of the best corned beef sandwiches in the area and now has a location near O'Hare Airport.
Turkey Reuben
Ingredients
Sandwich rye bread
Slices swiss cheese
Well drained saurerkraut
Thousand island dressing ( there is a from scratch recipe in cook book but I use a grocery store brand.
Thinly sliced turkey (there is a recipe for roasted herb marinated turkey but I buy fresh turkey breast slices every week from a deli in a local grocery store)
Melted butter
Instructions
Recipe calls for serving 8 people but has been adapted here for single sandwich or as many as wanted.
Lay one slice of bread on c prep surface and top with a slice of cheese
Add turkey slices  and top with sauerkraut
Spread with 1 ½ T of Thousand Island Dressing
Top with slice of cheese the slice of bread
Press gently to hold together and put on a baking sheet until all sandwiches are made.
To cook brush sandwich on both sides with butter or a cooking spray, cook in panini, sandwich press or on nonstick sauté pan.
Weight sandwich/es down with cake pan that has a 28 ounce can on it. Cook on side until golden.
Remove weight and cook on second side until golden and cheese melts.