Relax on a terrace next to water, flora and fauna.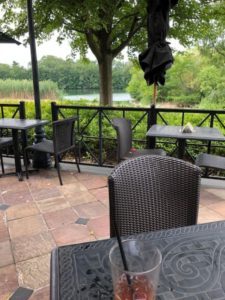 t's easy to forget that the Lincolnshire Cheesecake Factory is part of a chain when on its terrace overlooking natural water plants and creek. And you can get its famed brown bread while trying to decide between its delish fried calamari with a garlic dip from the regular appetizer menu or a veggie or turkey burger among other yummy and healthy items from the Skinnylicious menu.
This  is a place to go for lunch or dinner any day or brunch on Saturday and Sunday. The restaurant follows strict state and local Covid guidelines and uses every other table.
The Cheesecake Factory is at 930 Milwaukee Ave. in the Lincolnshire Commons off Aptakisik Rd., Lincolnshire. For hours and more information visit The Cheesecake Factory/Lincolnshire.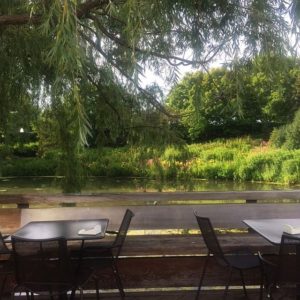 Walkers and photographers enjoy the Chicago Botanic Garden's winding paths and changing floral landscapes but those in the know also schedule their visit for breakfast or lunch  to eat out on the Cafe'/Grill terrace. It overlooks a part of the Skokie Lagoons that run through the Botanic Garden.
My favorite is an almond/cherry scone for breakfast that I pick up at the order counter and American coffee from the barista then take outside. But I'm going to try the Spinach Cheddar Egg sandwich next time. That is brought out to your table when ready from 8 to 10 a.m.
Visitors who go at lunch time can order jumbo char dogs, brats, herbed grilled chicken and burgers from the outdoor grill.
Bring a camera or snap a photo on the cell phone to capture one of the birds that  pose on the terrace's wooden bench back while waiting for a crumb to drop.
Masks are needed to go into the building/café and visitors are asked to follow marked one-way paths.
Related: Time to Eat Out