Sixth in the Cookbook Series
Recipes are passed among friends and cut from newspapers. But many kitchens also have at least one cookbook. As a former feature writer who has often written about new and long-time favorite restaurants, I have accumulated scores of notable cookbooks and have heard from friends about their go-to books and recipes. Ergo Dining Out – Eating In cookbook series. Click on Recipes above to see what cookbooks have been referenced so far.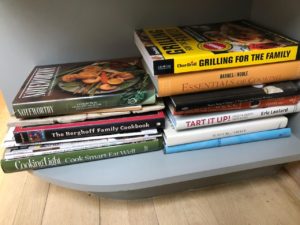 Among the books on my shelf is "Cooking Light Cook Smart Eat well," Oxmoor House 2009, Birmingham, AL, compiled and edited by Oxmoor House Editor Heather Averett.
Recipes range from soups, meats, meatless main dishes and seafood to weekend breakfast, brunch, family favorites and summer entertaining. With 350 recipes to try (not counting all the other cookbooks), my family and I haven't gotten far but among our favorites for summer is this one.
Grilled Salmon with Apricot Mustard Glaze
Ingredients
Salmon
4 six oz. salmon fillets (about 1 in thick)
1 ½ tsp minced garlic
½ tsp kosher salt
¼ tsp fresh ground pepper
Glaze
¼ c apricot nectar
¼ c apricot preserves
1 Tbs Dijon mustard
1 ½ tsp white wine vinegar
1 ½ tsp honey
¼ tsp kosher salt
¼ tsp fresh ground pepper
Instructions
Prepare grill.
Prepare fish by sprinkling fillets with garlic, ½ tsp salt and ¼ tsp pepper. Cover and refrigerate 15 minutes.
While salmon refrigerates do the glaze
Prepare glaze by combining nectar with next 6 ingredients in small saucepan then bring to a boil.
Reduce heat and simmer until reduction is ¼ cup (about 10 min) and set aside.
Place fillets skin side up on a grill rack that is coated with cooking spray and grill 2 minutes.
Carefully turn over and grill  4 minutes or until fish flakes when tested with a fork.
Brush each fillet with 1 Tbs glaze.
Grill 20 seconds.