Instead of the same old throw-a-burger on the grill this summer, try spicing it up with a sauce and pick up some make-it-better tips from bun and burger specialist Gregory Berger.
The author of "Buns & Burgers," a cookbook put out by Mango Publishing, Coral Gables, FL in 2019, Berger became so enamored by how good buns and breads can be, he became known in the Sacramento area for his home crafted goods and now supplies them to some of the city's restaurants. But his joy of cooking has also led to experimentation with recipes for what to put on the buns.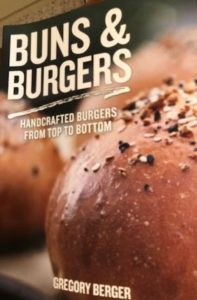 This is a from scratch cookbook by someone who has perfected the art of baking bread and buns but also loves to cook and pass along secrets and advice. Some of the tips regarding buns includes his use of bread flour instead of all purpose flour, kosher or sea salt not table salt and that he uses organic one-percent milk and Red Star active dry yeast from Costco.
The book does tell how to make great buns but it also has burger tips, advice on stacking a burber for ultimate flavor and several good recipes. Here are two recipes from the book for outdoor grilling season chefs.
A few tips: Among his burger tips are getting everything in place before you start, use only a quarter pound of beef per burger, letting the burger rest on a clean plate so juice doesn't soak thru the bun, butter and toast the bun (I use the top back wire section of my grill) then smear mayo or mustard (if either is called for) on the bottom bun, then add lettuce then beef then toppings and more lettuce, then and bun top.
For flavor changes he suggests jams such as kumquat but balance it with cheese such as Manchego to mix sweet and salty bitter or sour.
Classic Burger
25 minutes prep makes 4 patties
Ingredients
1 pound ground beef
Special sauce (see below)
4 slices American cheese
Fresh onions
Fresh tomato
Leaf or iceberg lettuce,
Pickles
Salt pepper
Sesame seed buns
Special sauce
½ c mayo,
3 Tbs ketchup
2 tabs sweet pickle relish
1 1/2 tsp sugar
1 ½ tsp distilled white vinegar
Mix and chill.
Instructions
Divide beef into four equal patties, add generous amounts of salt and pepper
Place in pan or on grill and cook about 4-5 minutes
Flip for another 2-3 minutes.
Add slice of American cheese and melt
Cut buns and butter and toast them
Start with bottom of bun, add smear of special sauce, lettuce then onion then tomato, then burger patty with cheese, then pickles then top of bun
Hawaiian Burger
25 min prep makes 4
Ingredients
1 pound ground beef
Teriyaki sauce (see below)
Leaf lettuce
White cheddar cheese
4 pineapple rings fresh if available but ok if canned
Caramelized onion (sliced onion sauté in butter)
Mayo
salt and pepper
Red sea salt buns (he makes these but look for your favorites.
Teriyaki sauce
1 c water
4 Tbs packed brown sugar
¼ c soy sauce
2 Tbs honey
1 large garlic clove finely minced
2 Tbs cornstarch
¼ c cold water
Mix first five ingredients over medium heat and cook until hot about 1 min.
Mix cold water and cornstarch to make thickener and add to the pot
Cook stir until thick 5-7 minutes
Instructions
Divide beef into four patties, generously salt and pepper
Cook in pan or on grill  4-5 minutes, flip then cook 2-3 minutes, add cheese after flip
Cut buns and butter and toast them
In buttered pan or on the grill, sear the pineapple for a few minutes until edges start to brown
On bun bottom add smear of mayo, lettuce, burger,
Then Teriyaki sauce, ring of pineapple, caramelized onion, burger top