Do breakfast, lunch, sup or drink outside under awnings, on patios, on rooftops, on closed-off streets, on sidewalks.
With states mostly in phase three re-openings, restaurateurs are anxious to serve and customers are anxious to sit at a table not in their own kitchen, dining room or patio.
Before plopping down at a table though, check whether you need a reservation, if there is a time limit and what the COVIC-19 protocol is for that dining spot.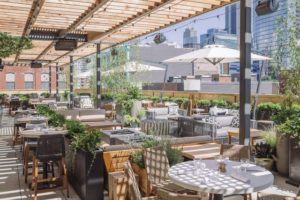 The following places are just a few ideas on where to satisfy that eat-out craving.
Lettuce Entertain You chain has reopened outdoor spaces including the Stelia Barra P:izzeria & Wine Bar in Santa Monica, CA and Bethseda, MD, RPM Italian in Washington, DC, El Segundo Sol and Joe's Seafood, Prime Steak & Stone Crab in Vegas.
Plus there are many more reopening in the Chicago area such as Aba, Beatrix (Fulton Market and Streeterville) Big Bowl (Lincolnshire and Rosemont), Café Ba-Ba-Reeba in Chicago and Bub City in Rosemont.
For the entire listing visit LEVE/in the know openings.
Willdberry Café, a popular chain with a breakfast vibe, is open now in Chicago, Libertyville and Schaumburg.
The Godfrey Hotel Chicago started welcoming customers back this past weekend. blishments, I|O Godfrey and Brunch Room.
Driving around Chicago's northern suburbs this past week found several sidewalks filled with diners in Wilmett and Highwood. In Highland Park, folks were sitting at tables on a closed portion of Sheridan Road, downtown, and a closed portion of Roger Williams in the Ravinia section of town. Further north, tables were filling on Scranton in Lake Bluff.
Chances are now good that there's a table waiting for you. So mangé.