Now that graduations, summer picnics, Fourth of July concerts and patio/deck dining are back it's time to add sparkling wines to our toasting and sipping choices.
After tasting some sparkling wines from the Trentino area of Italy in the Dolomites, the mountainous area topping off the northern, central-eastern area of the boot, I'm adding some with the Trentodoc appellation as perfect for special occasions and summer outdoor appetizers. (BTW, the Dolomites are divided among the provinces of Trentino, Belluno and South Tyrol.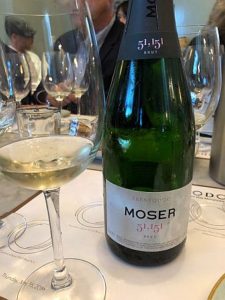 I learned at the tasting, held by Chicago's Spiaggia, a 2019 nominee for Outstanding Wine Program, was that there are more than 50 wineries and 130 labels from the area so finding Metodo Cassico, the sparkling Champagne-style wines from this area that suit different tastes, is very doable and rewarding. Trentodoc wines won 22 Gold Medals in the 2018 CSWWC Champagne and Sparkling Wine World Championship.
Metodo Classico is like the méthode champenoise used in Champagne. The different Trentodoc choices use different percents of Chardonnay as the base. The varieties allowed for Trentodoc aside from Chardonnay are Pinot Noir, Pinot Blanc and Pinot Meunier. The rosé usually contains Pinot Noir. There are Bruts aged 15 months, Single-vintages aged 24 months and Riserva aged 36 months on lees
What I liked best when tasting about a dozen different Trentodoc wines were the Rotan 40th Anniversary 2011, the Maso Martis Brut Bio NV, the Ferrnan Perlé 2012 and the Moer 51,151 Brut NV.
Related: Summer Wine Trends