Although I have had a delish meal at Fig & Olive (Chicago location) I didn't have a chance to go there just for cocktails and appetizers until a recent tasting of Mediterranean cheeses and other flavors that make really good appetizers.
I loved how Chef di Cuisine Mathew Mirza and Sous Chef Daniel Raidbard used cheeses and mixed other Mediterranean flavors in the restaurant's Signature Crostini.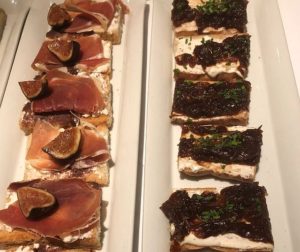 My faves were the Forest Mushroom Truffle & Artichoke and the Gargonzola – Apple with Red Pepper Marmalade. Yum
But I also really liked and scarfed down the Manchego Fig-Marcona Almond and the Prosicutto Olive- Ricotta & Walnut.
My selections are limited because I can't do tomato or onion however the Burrata Tomato & Pesto looked good as did the Goat Cheese Caramelized Onion.
The restaurant also does excellent Hummus.
To wash it all down in delicious fashion I chose the Pinot Grigio – Barone Fini, 13 / 29 Valdadige, IT 2017. But the Champs de Fraises of sparkling wine with strawberry confiture St. Germain, citrus biters and Early Gray tea sounded interesting as did a sangria.
Fig & Olive in Chicago is at 104 Oak St. in the Gold Coast neighborhood around the corner from North Michigan Avenue's Magnificent Mile. For more information call (312) 445-0060 and visit Figandolive.  The restaurant also has locations in NY, CA, DC and TX.