With all the restaurants that fill downtown Highwood it is easy to pass right by Washington Gardens on Green Bay Road. But those in the know consider it their local place to go when not wanting to eat in that night or tenors such as Pavarotti when he used to sing at the Lyric.
However, the only problem with sharing this restaurant on Dining In-Eating Out is that it is already hard to get a reservation on weekends and the place is busy during the week.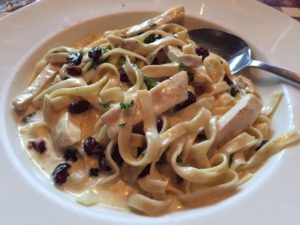 When the menu comes up while searching for Washington Gardens, usually found under "Alexs Washington Gardens Pizza, it looks as if this is just a pizza place. Well, its thin crust pizza is very good and its pizza recipe dates back to the 1940s. But this is the place to also go for homemade pasta that really is prepared al dente, for good seafood dishes and for traditional Italian sauces.
Originally begun by Alex Scornavacco's family as a large restaurant over on Washington Street in Highwood, mid-last century and where old timers still remember going with friends back in the 1960s, the current version opened on Green Bay Road as an intimate Italian restaurant known for seafood and pizza  in the 1980s.
It still continues its tried and true dishes but also does specialties connected to the seasons such as a penne pasta with asparagus and lobster or shrimp, soft shell crab and a chicken linguini with cranberries.
Washington Gardens is at 256 Green Bay Rd., Highwood, IL 0040. For reservations or other information call (847) 748-0103 or visit Alex's Washington Gardens Pizza.