The vegetables you'll soon be seeing in your salads and sauces are varieties you never imagined.
Take a tomato called Midnight Snack, for instance. It's a flavorful red cherry tomato with a skin that turns deep purple where the sun hits it. The color is due to an accumulation of anthocyanin, the same pigment found–and said to offer health benefits–in blueberries and raspberries.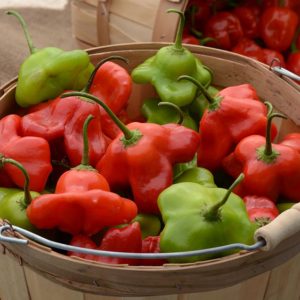 Or the Habanero Primero Red Pepper. Most habaneros aren't ready for picking until late in the growing season. This one ripens weeks earlier. It's also got one-third the heat of standard varieties, making this habanero more versatile for preparing salsas and sauces.
"It really depends on the type of crop, but it typically takes around five years to develop a new vegetable for market," says Josh Kirschenbaum, vegetable account manager for PanAmerican Seed Co. "Sometimes shorter or sometimes longer. A decade is not unheard of."
 PanAmerican is one of seven seed breeding companies owned by Ball Horticultural Co., a wholesale seed and plant distributor to the commercial horticultural industry. Headquartered in West Chicago, Ball was founded in 1905 as a wholesale cut-flower operation. Today the company has grown to include breeders, research and development teams, seed and vegetative producers, and distribution companies with a global presence in 17 countries on six continents.
 Although Ball does not sell directly to restaurants and home gardeners, every product is developed with the consumer in mind. That means breeding not only for taste but also such qualities as disease and pest resistance, climate acclimation, growing time and yield.
"We ask ourselves, what's missing from the types of peppers people are growing?" Kirschenbaum says.
 One significant trend is growing edibles in containers on patios and decks. Because no one wants to tend a pot all summer and end up with six dinky tomatoes, Ball has come up with vegetables that are both compact and high-yielding.
 Its "Little Collection" consists of three dwarf tomato varieties that grow to a height of two feet and produce abundant crops in mid-size containers: Little Sicily is a slicing tomato, Little Napoli is a roma, and Little Bing is a cherry tomato.
"Even if you have only a window sill, you can grow something," Kirschenbaum says. "You just have to know the right type of vegetable or herb to be growing."
Here's a look at more of the latest vegetables from Ball:
 Chocolate Sprinkles Tomato: A dark red, oval-shaped cherry tomato with green stripes and purple flesh.
Snackabelle Red Pepper: A sweet miniature bell pepper sturdy enough for grilling and stuffing.
Mad Hatter Pepper: Shaped like a flying saucer with sweet-tasting "wings" and greater heat near the seed pod.
Orange Marmalade Pepper: Early maturing, bright orange bell pepper with sweet flavor.
Butterbaby Squash: A single-serving butternut squash with shorter baking time.
Newton Basil: Large crinkled leaves are big enough for wraps, no licorice aftertaste.
Martini Cucumber: Tender white skin and bitter-free white interior, sweet and crunchy.
For more information on Ball Horticultural Co., visit  Ball Horticultural.
Pamela Dittmer McKuen