A new Culinary Institute of America location is now in the works, but it isn't in the United States. CIA just announced that it is working with the University of Barcelona to form the Torribera Mediterranean Center at UB's Santa Coloma de Gramenet's Food and Nutrition Campus.
The Center will have two master's degrees that focus on the Mediterranean-diet regarding  agriculture, nutrition science,  health and culinary innovation.  It will also have a semester-abroad program for CIA's bachelor degree students.
"The traditional Mediterranean Diet is the most heavily researched and documented cultural model for healthy eating," said CIA President Tim Ryan.
"This ground-breaking academic center will, for the first time, bring together academics, chefs, other professionals, and business leaders from around the world to accelerate positive impacts tied to this delicious UNESCO Intangible Cultural Heritage.," said Ryan.
He added, "As part of our continuing global outreach, we are honored to co-launch this partnership with the University of Barcelona to underscore the enhanced role that interdisciplinary scholarship, translational research, and marketplace innovation needs to play in advancing healthy, sustainable food choices."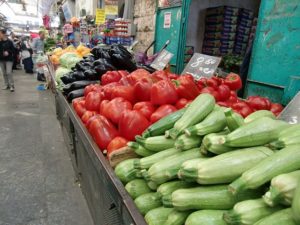 A CIA statement further explained the joint venture. "The development of the Center and its programs will be guided by three stakeholder councils: leading scientists and technical experts from around the world (Scientific and Technical Advisory Council); chefs, food critics, regional cooks, food studies scholars, and other food and drink experts (Culinary and Foods Studies Council); and representatives of top Mediterranean institutions, companies, and producers in agriculture, food, beverage, public health, and other hospitality disciplines (Business Leadership and Innovation Council)."
For more information visit TMC Mediterranean,  e-mail tmc.ub.cia@ub.edu or call +34 93 403 90 39.
( Ed note: Among the best places to find everything needed for a Mediterranean diet can be found at  Jerusalem's Mahane Yehuda Market, a large, partially enclosed  marketplace that sells fresh fruits, vegetables; fish, cheeses; nuts and spices https://en.machne.co.il/ . To see an article on the market visit Chicago Tribune Travel/Food/Jerusalem.