A bean you thought you knew for desserts really enhances entrees.
You might never use the analogy of "bland as vanilla" again if you really knew this complex bean. Depending on its origin, Tahiti, Mexico, Madagascar, Indonesia or a couple of other areas within 20 degrees of the equator, you may taste more spice, sweetness or other flavorful notes.
"Vanilla has more than 300 components. Natural vanillin (an organic compound) is only one out of 300 components," said Craig Nielsen of Nielsen-Massey, a Lake County, IL gourmet vanilla extract company.
Who knew? Well the Nielsens: the late Chatfield Sr., Chatfield Jr., and now, the third generation of the company – Sustainability Vice President Craig, Strategic Initiatives Vice President Matt and Vice President of Culinary Beth. Richard Massey had left the company around 1917 to go in another direction and Kirk Trofholz became CEO in 2017.
A more than a century-old company that started in Sterling, Ill. in 1907, Nielsen-Massey moved to Chicago, then Lake Forest because demand required more space the company is now in a Waukegan industrial park. With restaurants, gourmet specialty shops and home cooks latching on to food and flavor trends, demand for the company's products zoomed to outgrow the Lake Forest space and then the original footprint in its Waukegan office park.
"We couldn't make vanilla quick enough to keep an inventory until we expanded and added more tanks," said Craig Nielsen. "Demand for our products took off with the explosion of the all-natural, organic movement," Nielsen said. His vanilla extracts are organic certified. They also ae gluten free and kosher
The company caters to three sectors: retail, chefs/catering and the industrial market such as Eli's Cheese Cake, ice cream producers and confectionaries. Among the users are such award-winning chefs as Rick Bayless of Frontera Grill/Topolobampo and award-winning pastry chefs such as Christopher Teixeira of Homestead on the Roof/West Town Bakery and Mindy Segal of HotChocolate.
The appeal to fine cooks (Julia Child was an advocate) are the products' richness and depth of flavor which Nielsen attributes to the cold process developed by the company. He explained that other companies used heat and pressure which was faster.
"The cold process of extraction takes weeks compared to heat or pressure which takes two to three days. The vanilla bean's components are volatile. Too much is lost with the heat and pressure processes," he said. "It really makes a difference."
Nielsen recommended trying different types of vanilla and using them for more than baking. "There really is a different taste to vanilla from Mexico which has spicier components than from Madagascar which has a creamy sweet taste and Tahitian vanilla which is fruitier," he said.
He pointed out that different vanillas add flavor to dishes such as salmon, chicken and lasagna. "I use it when I make chili. It can be used as an enhancer for savory dishes and is also good for chocolate. You don't need as much salt or sugar when you use vanilla."
Vanilla's price, the most expensive spice after saffron, is due to labor costs because the orchid it comes from has to be hand pollinated and the bean, hand-picked, according to Nielsen. He thought consumers ought to know that artificial vanilla is cheaper because it has artificial vanillin made from wood, not orchid beans.
Nielsen- Massey can usually be found at upscale stores like William Sonoma, Sur La Table, and Whole Foods and on Chicago's North Shore at Sunset Foods. For more information and recipes visit NielsenMassey or call (800) 525-PURE (7873).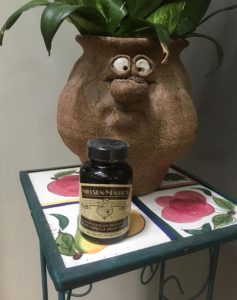 RECIPE
Ingredients
Glaze
1/2 c Champagne
1/4 c firmly packed dark brown sugar
1/2 tsp Nielsen-Massey Madagascar Bourbon Pure vanilla Extract
1 1/2 tsp chili powder
1tsp ground cumin
1/8 tsp ground cinnamon
1/4 tsp salt
1/8 tsp ground white pepper
Salmon
4 (6-8 oz) salmon filets, rinsed and patted dry and 2 dried bay leaves
32 fl. oz. half and half
1 Tbs Nielsen-Massey Organic Madagascar Bourbon Vanilla Extract
Directions
In a small saucepan add champagne sugar, vanilla extract, chili powder, cumin, cinnamon, salt and pepper.
Heat over medium-high heat, stir and cook until glaze boils (about 2-3 minutes).
Reduce heat and simmer until glaze reduces and slightly thickens (about 5 minutes). Remove from heat.
In a large skillet over low heat, add half and half, vanilla extract and bay leaves.
Stir to combine and bring to a gentle simmer.
Add salmon filets, cover and poach until done (about 8-10 minutes).
Preheat broiler on high heat.
Place poached fish on a foil-lined rimmed baking sheet.
Lightly coat with cooking spry.
Generously brush filets with glaze.
Broil on high heat for 2-3 minutes.
Serve with grilled asparagus.
Serves 4. Takes about 25 minutes.