One of the reasons eating around Chicago is fun is because you can travel the world sampling various cuisines without driving more than a few miles. This most recent adventure took me to Staropolska which translates as "Old Poland."
It's on North Milwaukee Avenue in one of the city's oldest Polish neighborhoods. Located just south of Belmont the Logan Square area, you can still find a few other Polish restaurants on the street as well as a travel agency, a deli, drug store and bookstore not too far away. All have Polish language signs on the window.
Staropolska is family- friendly, classic Polish comfort food in a rustic-wood and wrought- iron tavern setting with an elk skin on the wall. The V.I.P. area has exposed brick and a table for ten next to a stone fireplace that looks like the corner of a cozy country manor house. In contrast to the public space the restaurant also has a richly appointed gilded banquet room with white table cloths which seats about 50 or so for special occasions.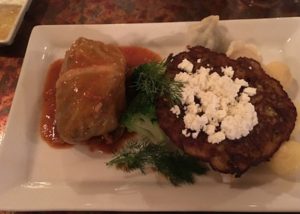 We began our meal with a shot of Żubrówka vodka, a Polish favorite since the 16th Century, known for its distinctive blade of Bison Grass in every bottle. This was a perfect accompaniment to the appetizer course that included sweet juicy plums wrapped in crispy bacon, potato pancakes with apple sauce and plump herring filets in sour cream with onion.
For the soup course I opted for traditional, dark red beet borscht while my wife had the creamy bowl of mushroom soup. Our other companions were excited to sample the Zurek , a hearty peasant soup prepared from fermented bread that they loved.
For the main meal our youngest diner a ten-year-old, chose a plate of potato and cheese pierogi. His assessment was "five stars light and tasty".
I chose the "Vegetarian Plate" not because I am a vegetarian but I wanted to have something classic but not usual. I was not disappointed.
The cabbage roll was plump with earthy mushrooms and rice. Included were two pierogi. One was densely jammed with finely chopped spinach and the other was potato and cheese. The zucchini pancake was a good spin on the traditional potato pancake but this time topped with a generous serving of goat cheese. Fluffy potato dumplings and some obligatory broccoli rounded out this diverse plate.
A word of warning: This is a meatless entrée but if you are a serious vegetarian you might inquire as to how these dishes are prepared as there may be butter, chicken stock and even a spoonful of beef gravy on the cabbage roll. I am sure if you ask they will accommodate your needs but I am certain you will enjoy something other than a plate of stir-fried veggies.  By the way, some cooked beets might be a good addition to this plate.
The other dishes included in our dinner party were Vienna Schnitzel, a pork cutlet pounded thin, breaded and lightly sautéed with a perfect sunny side up egg on top. Kotlet Schabowy a breaded pork cutlet with mushrooms. The Hungarian style potato pancake is actually a kind of beef stew with peppers served over a potato pancake. My dinner companion who has had this dish in Kracow felt it could have been a little spicier.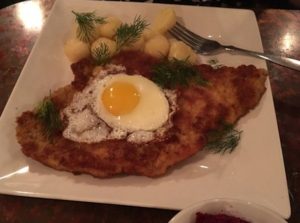 You will find other items on the menu such as polish sausage, liver, beef stroganoff, some chicken dishes, and salmon as well as a few salads. There is a family style dinner for parties of four or more for $18.95 per person.
Beer, wine and vodka is $5.00 to $7.00. Popular Polish brews, Okocim and Żywiec, are available as beer choices with a good selection of wine by the glass.
Staropolska is very moderately priced with entrées less than $20 per person.  Our entire meal for four adults and one pre-teen with appetizers, soup, main course, wine, vodka, coffee, a couple of cookies and generous tip was under $40.00 per person.
Experience a bit of the old world with a hearty comfort meal at Staropolska, 3030 N Milwaukee Avenue, Chicago, IL. Reservations on the weekend for larger parties is a good idea and can be made at (773) 342 0779, but are not necessary.
Reno Lovison
Relate:  Dining in an elegant cave below Prague Square