There are so many places to eat in Prague that choosing one can be a toss of a coin. However, at some point you will be walking around the Old Town Square, a UNESCO World Heritage site where the Prague Orioj, an astronomical clock is a favorite photo op.
There are lots of cafés on the Square (Stare Mesto) but if you want something special, a place that is different that also has really good food, reserve a table downstairs, at the Bílý Koníček White Horse. It is housed in a UNESCO protected structure where diners head down into a 12th century cave.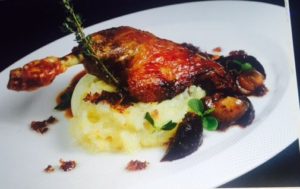 We found the restaurant by accident when looking for a place to lunch where we could also see the astronomical clock. When checking out the cafés we learned that at White Horse we could dine in a cave. We told the hostess we'd be back for dinner then left to sit at an outdoor restaurant opposite the clock.
We not only loved the ambiance but also liked that some of us could get really good local dishes such as duck confit prepared two different ways and our friend with us could get excellent salmon. He liked the place and food so much he returned the next night even though we went to another place known for local cuisine but much closer to our hotel.
We also liked that the menu was on an ipad so we could see the dishes with their description.
White Horse is not on most tourist guides. Visitors to the Square typically eat upstairs in the outdoor café. Downstairs, where we went, we saw people on dates. It seems to be a place where customers come to relax and for a night out. White Horse is at Staroměstské náměstí 20 Prague, Czech Republic.
See its video at UTube and find more information on the White Horse  facebook page.